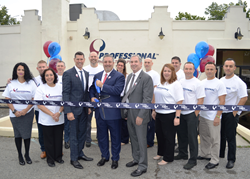 To me, this is the epitome of the American Dream.
Uniondale, NY and Bergen and Essex Counties, NJ (PRWEB) October 10, 2016
Professional Physical Therapy, a leading provider of physical therapy and rehabilitation clinics throughout New York, New Jersey and Connecticut, announces today the acquisition of MCRC Physical Therapy in New Jersey. This agreement adds three clinics in West Orange, Oradell, and Saddle Brook, and further extends the organization's reach in Bergen and Essex counties.
This acquisition is a landmark one for Professional Physical Therapy, as they are now able to service patients from more than 100 state-of-the-art clinics. In addition to Physical Therapy services, patients are benefitting from a rapidly growing Hand and Occupational Therapy program; cutting-edge treatment techniques; and electronic recordkeeping, so they can visit multiple clinics and follow the same Treatment Plan.
Adam Elberg, Founding Partner, President and Chief Executive Officer of Professional Physical Therapy
announces, "We could not have accomplished this without the support of our clients and the referring physicians who entrust us to care for their patients. As we expand and explore future growth opportunities, we will always strive to provide an exceptional experience for every single patient, at every touchpoint. I fully expect the team at Professional to be the force that drives consumer-focused, value-based, quality healthcare."
Adam adds, "I want to commend the founding team at Professional – Chief Clinical Officer, Rob Panariello, Chief Development Officer, George Papadopoulos, Senior Vice-President, Tony D'Angelo, and Chief Operating Officer, Don Demay, just to name a few. Their passion and tireless commitment to Professional Physical Therapy have been the driving force behind our success. We started in 1999 with just one site, then a handful of sites in 2006, to now over 100 locations, just a decade later. This could not have happened without the remarkable team we have around us, which now welcomes MCRC into our family. To me, this is the epitome of the American Dream."
Mike Weis, Partner, Owner and Director of Rehabilitation of MCRC Physical Therapy states, "For more than 16 years, Thomas Kaynak and I dedicated ourselves to providing the highest quality care and individualized treatment plans for our patients. Partnering with Professional Physical Therapy has given us the ability to reinforce and strengthen these goals, through our combined skills and expertise, while we care for even more patients in our communities. In addition, after learning of our shared emphasis and support of philanthropic efforts within the local communities, we are exceedingly confident that we made the best choice."
The addition of the three MCRC clinics now gives patients convenient access to a total of 34 locations throughout eight major counties in New Jersey. With multiple clinics operating in Bergen, Essex, Monmouth, Morris, Passaic, Sussex, Union, and Camden counties, patients can easily utilize the wide range of services and innovative techniques these clinics offer. Specialties include Hand, Vestibular, TMJ, and Aquatic Therapy, A.R.T., Schroth Method, Kinesio Taping, Maitland Concept, McKenzie Method, Myofascial Decompression (MFD), Dry Needling, and Pilates. For more information and a list of all of Professional Physical Therapy's locations and services, please visit http://www.professionalpt.com.
ABOUT PROFESSIONAL PHYSICAL THERAPY
Professional Physical Therapy, headquartered in Uniondale, New York, is an award-winning, leading provider of physical therapy and rehabilitation services throughout the New York metropolitan area, New Jersey and Connecticut. Founded in 1998, Professional Physical Therapy operates 102 outpatient physical and hand therapy centers: 12 located within Equinox Fitness Centers, five located in Blink Fitness facilities, one located in a STACK Sports Performance Center, one inside a Golf & Fitness Academy, one inside Chatham Club, and 82 standalone. The company's outpatient physical therapy centers provide treatment to patients suffering from musculoskeletal impairments associated with orthopedic and sports injuries and other medical conditions. Additionally, Professional Physical Therapy operates a 20,000 square foot sports performance training facility in Garden City, New York. http://www.professionalpt.com.