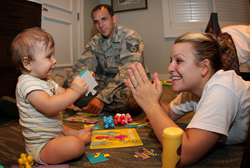 Rockville, MD (PRWEB) October 13, 2016
Fisher Houses have now offered seven million nights of lodging to military and veterans' families since 1990. If that number isn't impressive enough, on any given night, up to 950 families can safely and free of charge sleep in a Fisher House.
"I doubt my Uncle Zachary, who built the first Fisher Houses over 25 years ago, could ever have imagined providing seven million nights of lodging," said Ken Fisher, Chairman and CEO of Fisher House Foundation. "Today, there are 71 Fisher Houses across the country, in Germany and the United Kingdom. The Foundation has expanded its programs to include transportation support, scholarships and sponsorship for adaptive sports. And just yesterday we learned that for the 13th consecutive year we have received a 4-Star Rating from Charity Navigator."
Fisher House Foundation is best known for a network of homes where military and veterans' families can stay at no cost while a loved one is receiving treatment. Fisher Houses have up to 21 suites with private bedrooms and baths. Families share a common kitchen, laundry facilities, a warm dining room and an inviting living room. The Foundation has saved military and veterans' families an estimated $320 million in out-of-pocket costs for lodging and transportation.
These homes are much more than just a refuge or free place to stay. They also provide a place for the entire family to heal together. "For the first time since Afghanistan, my husband and I sat on the couch at the Fisher House and talked and laughed–like the old days," said Macy, wife of a Navy combat veteran. "We finally felt like there was hope for the future that didn't involve PTSD or TBI (traumatic brain injury). Fisher House provided that hope and comfort for us."
The Foundation also operates the Hero Miles Program, using donated frequent flyer miles to bring family members to the bedside of injured service members, as well as the Hotels for Heroes program using donated hotel points to allow family members to stay at hotels near medical centers without charge. The Foundation also manages a grant program that supports other military charities and scholarship funds for military children, spouses and children of fallen and disabled veterans.
"Fisher House Foundation is dedicated to those we are privileged to serve – our nation's military, veterans and their families. I know I speak for everyone at Fisher House when I say we will be here for as long as it takes. We will find and devote resources given us to get the job done," said Ken Fisher. "This isn't charity—it's our duty."
For more information see: http://www.fisherhouse.org