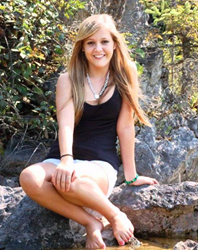 Kelsey had a heart bigger than the universe and she would have been thrilled that this contest is in her honor.
Farmington Hills, MI (PRWEB) October 10, 2016
High school students from all over the state submitted compelling messages this summer for a new public safety campaign aimed at persuading teen drivers to avoid distracted driving. The first annual "Kelsey's Law Scholarship: Stop Distracted Driving Contest" is in honor of Kelsey Raffaele, who inspired Michigan's teen driving law after she was tragically killed in a 2010 car accident using her cell phone.
Now, $5,000 worth of college scholarships will be awarded to the four Michigan high school students with the most convincing safety messages. The submissions were in video, Tweet or graphic form.
"Kelsey had a heart bigger than the universe and she would have been thrilled that this contest is in her honor," said Kelsey's mother, Bonnie Raffaele, of Sault Ste. Marie, Michigan. "If we can save just one life out of this tragedy, then our job has been done."
"These students created the most influential and emotional messages that will truly resonate with teen drivers — and we're honored to further the cause of helping prevent teen crashes in the name of Kelsey. Bonnie has been tremendously courageous and we also want to honor her crusade by also making it ours," said Steven M. Gursten, attorney and founder of Michigan Auto Law, a Farmington Hills-based law firm that launched the scholarship contest with Bonnie Raffaele.
Here are the four winning submissions:
Best Overall - Emily Eggenberger, Alma High School: Click here to watch Emily's winning video.
Emily is currently a senior at Alma High School and created a powerful message about how distracted driving is "not always about you," but deeply affects others.
Best Video - Amanda Abro, Walled Lake Western High School: Click here to watch Amanda's video.
Amanda graduated from Walled Lake Western this past June and attends college at Wayne State University. Her dramatic video reminds us just how precious life is and illustrates the serious consequences of distracted driving wrecks.
Best Graphic - Jon Perrault, Escanaba Senior High School: See attached for Jon's graphic.
Jon is a senior at Escanaba Senior High School in the upper peninsula of Michigan. His graphic points out how quickly accidents can happen within just a few short seconds.
Best Tweet - Nathen Foster, Byron Center High School: "The freedom of a license gives someone so many options; hopefully, open or closed casket is not one of them. #xMyText #Distracted Driving"
Nathen is a senior at Byron Center High School, just outside of Grand Rapids It can be difficult to relay an impactful message in less than 140 characters, but Nathen was able to remind teens of the ultimate price one can pay after getting a driver's license.
"Our hope is to get these powerful distracted driving messages shared among as many high school students as possible to impact their decisions and stop this potentially deadly driving behavior," Gursten said.
"As an auto accident attorney, I'm seeing more and more of these distracted driving car accident cases, especially involving new teenage drivers. Myself and the attorneys at my law firm want to do everything we can to prevent them," he added.
To view more details about each winner and their submissions, please visit http://www.michiganautolaw.com/kelseys-law-scholarship/winners/ .
The 2017 Kelsey's Law Scholarship - Stop Distracted Driving Contest is now open for submissions. The deadline to apply is August 31, 2017. To apply, click here.
Michigan's teen cell phone ban: In 2013, Kelsey's Law passed in Michigan, making it illegal for teen drivers to use cell phones.
The law prohibits cell phone use by teen drivers with a Level 2 graduated license. This is when 16-year-olds can drive a motor vehicle without an adult in the state of Michigan. A teen driver who violates this law by using a cell phone would receive a civil infraction.
About Michigan Auto Law: Michigan Auto Law has 17 lawyers exclusively litigating automobile accident and No Fault insurance cases throughout the state. The law firm has received a top-reported jury verdict or injury settlement for a car or truck accident victim for the past 17 consecutive years, according to published year-end compilations by Michigan Lawyers Weekly. Michigan Auto Law has offices in Farmington Hills, Detroit, Sterling Heights, Grand Rapids and Ann Arbor. For more information, visit http://www.michiganautolaw.com or call (800) 777-0028.
About Steven M. Gursten: Steven Gursten is recognized as one of the nation's top attorneys litigating serious auto accident injury and wrongful death cases. Steve is an active leader in many organizations, including President of the Motor Vehicle Trial Lawyers Association and Past Chair of the American Association for Justice Truck Accident Litigation Group. He has been named a Michigan Lawyers Weekly Lawyer of the Year. Steve is also listed in Best Lawyers in America and is named one of the Top 100 Lawyers in Michigan by Super Lawyers. Steve frequently lectures at legal seminars throughout the country on topics such as trial advocacy, Michigan No Fault law, traumatic brain injury and maximizing auto accident settlements.