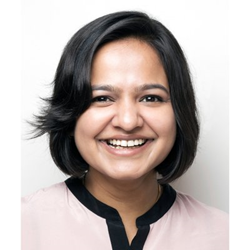 "JW Player is dedicated to providing a viable and cost effective alternative to H.264/H.265 over HLS to deliver high quality video for users on constrained bandwidth devices," said Madan.
New York, NY (PRWEB) October 06, 2016
JW Player, the world's most popular video player and leading digital and mobile video solutions company, today announced Media Engineer Pooja Madan and Software Engineer Team Lead Nuno Pinge are scheduled to be featured speakers at Demuxed, an annual conference for video engineers held in Pooja Madan San Francisco on October 13.
The presentation, "DASHing into the Wild with VP9", details JW Player's implementation of VP9 transcoding and delivery using MPEG-DASH. It will also feature architecture decisions, implementation details and recent results using the video compression technology.
"JW Player is dedicated to providing a viable and cost effective alternative to H.264/H.265 over HLS to deliver high quality video for users on constrained bandwidth devices" said Madan, an engineer with a decade of experience working with video compression, image processing and digital forensics products. "In this conversation we will outline our experiments with quality, encoding speed, bytes delivered and lower time to first frame."
Today, more than two billion devices worldwide support the VP9 video codec in the HTML5 element. An open and royalty free video coding format developed by Google, VP9 codec technology shrinks the size of video files so each can be transported more efficiently. In fact, according to a recent Google / YouTube case study, VP9 improved user experience allowing video playback to start 15-80% faster, and enabling more users in bandwidth-constrained environments to watch higher quality video.
"For publishers the big win with VP9 is the ability to deliver better quality and higher resolution content for users under constrained bandwidth conditions such as mobile networks," said Pinge, a mentor, engineer and architect with over 10 years of experience specializing in IoT, Analytics and Video delivery products at scale. "The choice of technology is being driven by the ever growing needs of our publishers and viewers. Ultimately VP9 will improve engagement and views."
Pinge holds a BSc from Instituto Superior Técnico and speaks four languages. Madan holds Master of Science (MS), Electrical and Electronics Engineering from New York University.
The at 9:00AM in Ellation HQ located at 835 Market Street Ste. 700 San Francisco, CA. JW Player's Pinge and Madan will begin their presentation at 3:00PM.
About JW Player
JW Player is the New York-based company that pioneered video on the web and is now innovating for the future. Started in 2008 as the world's first open source video player, today the company's customers span the globe across 193 countries and range from Fortune 500 companies to individual bloggers. The company's flagship product, JW Player, is live on more than 2 million sites with over 1.3 billion monthly unique viewers across all devices — OTT, phones, tablets, and desktops. Nearly five percent of all video streams worldwide are delivered through JW Player, with 10 billion plays and 1 million new uploads every month. In addition to the player, the company's services include video hosting and streaming, advertising, and analytics. For more information, see http://www.jwplayer.com.
Media Contact
Tim Gray
Director of Public Relations
tim(at)jwplayer(dot)com
917-202-9515
About Demuxed
Demuxed is simply engineers talking about video technology. After two three years of chatting about video at the SF Video Technology Meetup , we've decided it's time for an engineer-first event with quality technical talks about video. Our focus is on video delivered over the web, but topics cover anything from encoding to playback and more!