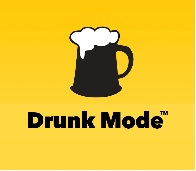 WASHINGTON, D.C. (PRWEB) October 21, 2016
Josh Anton, founder of Drunk Mode – the viral safety app sweeping the nation's college campuses – is revolutionizing the drinking and party culture among Colleges and Universities throughout the nation, despite himself, living a sober lifestyle. Drunk Mode is the fastest growing college safety app on the market, with over 1.3 million installs and 250,000 active users monthly.
What makes the app so popular and unique, is that it puts a fun twist on being safer and more responsible, with features that include; a drunk dial blocker, 'Breadcrumbs' - to retrace your night from before, and 'Find A Ride' to easily find an Uber home or to other drinking buddies, and allows party goers to track their friends during a night out to insure they make it home safely. If someone is reported missing, their info can be pushed to everyone in a five-mile radius.
"People have been trying to encourage safer drinking practices across college campuses for years," says Anton. "But college students, and people in general, are going to do what they want – we can't change that. What we can do is offer safety features in the form of a party app. Something fun, that encourages wiser choices."
About Drunk Mode:
Drunk Mode is the number one nightlife safety app on the market. Created in 2013, and with over 1.3 million downloads to date, Drunk Mode doubles as both a party and safety app for you and your friends during a night out. Alert friends and family that you're home safe with Homebase. Stop yourself from drunk dialing, and track where you went the night before. With Find My Drunk, never lose a friend again, and stop drunk driving by finding a safe ride home or even to friends.
###
Members of the public and the media can find more information on the company visiting DrunkMode.org or by following Drunk Mode on Twitter @DrunkModeApp.