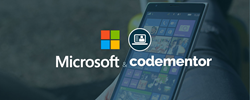 This is an exciting step forward for Windows app developers through Microsoft's amazing platforms and Codementor's 1:1 expert help
Palo Alto, CA (PRWEB) October 07, 2016
Codementor, a leading marketplace for on-demand live help from expert developers, announced its plans to provide more expert support to Windows app developers. As part of the announcement, registered Windows Store developers will get the added benefit of live one-to-one help from expert developers.
"This is an exciting step forward not just for both Codementor and Microsoft but for Windows app developers as well," said Weiting Liu, CEO and Founder of Codementor. "With this announcement, we aim to create growth opportunities for developers through Microsoft's amazing platforms and Codementor's 1:1 expert help," added Liu.
Beginning October 2016, registered Windows app developers can enjoy this benefit, along with other perks, via the Windows Dev Center Benefits Program. Any developer building a Windows app will be able to get live 1:1 expert help via screen sharing and video chat for any Microsoft tech stacks including C#, UWP, and more.
As a result, Windows app developers can collaborate, ask for advice, or seek expert help on Codementor's pool of 4500+ vetted expert developers to improve the way they build Windows apps.
This announcement builds on Codementor's commitment to support the developer community by helping them create better apps through collaboration and accessibility.
Windows app developers who are new to Codementor can log into the Dev Center Benefits portal and follow the custom link to complete user registration and claim their free Codementor credits.
About Codementor
Codementor is the leading live mentorship marketplace for software developers. Codementor's network of 4500+ expert developers from around the world provide on-demand help and long-term mentorship for developers, ranging from individual beginners to experienced engineers at Fortune 500 companies. Investors of Codementor include Techstars and 500 Startups. Learn more about Codementor at https://www.codementor.io.