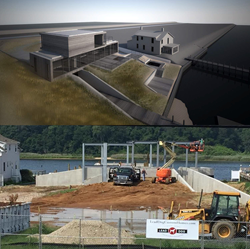 Michael Villane has a sensibility of how to get the job done that, frankly, a builder that is headquartered in New York doesn't.
Sea Bright, NJ (PRWEB) October 07, 2016
Lead Dog Builders, led by Founder and President Michael Villane, is playing a key role in a unique project in Sea Bright. The Monmouth County-based construction management company is building an ultra-modern home for New Yorkers R.C. and Valari Staab, who selected the company based on its portfolio and knowledge of coastal construction.
"Michael Villane has a sensibility of how to get the job done that, frankly, a builder that is headquartered in New York doesn't," said Staab. "There are lots of complications related to building a house at the shore, including city permits and raised elevations, that a New York builder does not understand."
Located between the Atlantic Ocean and Navesink River, the home was designed by RAAD Studio in New York City and features two levels of living space, which are skewed to maximize views of both bodies of water, plus a ground level that includes a garage and storage. An open floor plan reminiscent of a New York City loft features columns around the perimeter and floor-to-ceiling windows. The site includes a hill that flows gradually up to the living space, which elevates the home above flood plain requirements and features natural grasses.
"Most homes in the area have a Cape Cod look," said owner R.C. Staab. "Our intention wasn't to build a unique house. We were just energized by the idea of not bringing the suburbs to the beach, but letting the beach be the beach."
Staab and his wife Valari chose Lead Dog Builders after an exhaustive search, during which they interviewed half a dozen construction management companies and looked at homes in Monmouth County that each had completed. Staab was impressed by Lead Dog's passion for the project and commitment to getting it done quickly and efficiently. "Lead Dog embraced our design and was excited by our home," said Staab.
With the homeowners and architect located in New York City and Lead Dog working out of its Red Bank office, proper coordination was a key concern when building the project. Mike House of RAAD Studio pointed to Lead Dog's area knowledge and open communication as necessities for successful construction of the home.
"We really needed an expert who understood coastal construction in a very sophisticated way," said House. "Lead Dog always maintains a live schedule to keep us updated and offers an open book construction management approach."
Construction is slated for completion this spring. The Staab family looks forward to owning a home in Sea Bright, where they've spent the last three summers renting, and are quick to recommend Lead Dog Builders to other homeowners seeking to build in the area. "Michael knew everyone and was always on the ground," R.C. Staab added. "That made all the difference."
Lead Dog Builders provides construction management, custom home building and renovations using the finest materials and craftsmanship. Based in Monmouth County, Lead Dog Builders, located at 219 East Bergen Place in Red Bank, serves the towns of Red Bank, Rumson, Little Silver, Shrewsbury, Fair Haven and the surrounding areas. To learn more, call 732.747.3553.