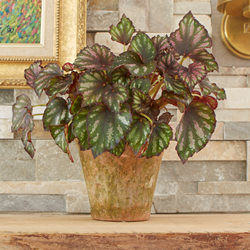 Colorful Exotic Angel® plants stay looking good and keep you healthy, too.
Miami, Fl (PRWEB) October 13, 2016
Falling leaves, chilly nights and pumpkin spice lattes mean one thing — fall has arrived. Say hello to autumn by incorporating elegant air purifiers – houseplants -- into family spaces. Take any décor style to the next level by adding a plant with striking colors and interesting textures.
Easy-to-care-for plants, such as those from the Exotic Angel® collection, are perfect for homes since they visually bring a breath of fresh air to any room and come in a wide variety to suit any style. Rex begonia, earth star, or purple passion plant are perfect for the fall season and look spectacular says Justin Hancock, plant expert at Costa Farms. In addition, Exotic Angel® houseplants are known to effectively remove harmful toxins from indoor air, as documented in a recent study by the State University of New York at Oswego.
"Dressing up spaces with houseplants is a cinch," says Hancock. "You'll be glad to have that extra pop of life inside as the outdoor landscape goes dormant. Colorful Exotic Angel® plants stay looking good and keep you healthy, too."
Get into the fall spirit with these six simple tips for brightening indoor spaces with plants.
1. Mix and match. Combine a variety of houseplants in different sizes and containers to create a unique collection. Easy-care silver pothos, for example, pairs perfectly with white-variegated Dracaena Warneckii.
2. Be creative. Let houseplants take the main stage by accenting with seasonal décor. Decorative pumpkins, turkeys and antlers add a seasonal touch that can easily be switched out for winter. Add displays of charming ferns to windowsills, counters and tabletops.
3. Go classic. Strategically place English Ivy in rooms throughout the house for a look that's as cohesive as it is fresh. Use the same containers for a uniform look throughout the house.
4. Explore new spaces. Plants like spider plant thrive in new and unexpected places like bookshelves or coffee tables under the right conditions. Hang houseplants in a location that draws attention to them, but keeps small hands out. Make sure the plant receives enough light and is watered regularly.
5. Create a feature. Centerpieces combining multiple houseplants are real show-stoppers. Add golden moss, ferns, and plants to a terrarium or a basket for a put-together look that only takes minutes. After dinner, allow guests to take individual plants for a party favor they'll be sure to remember.
6. Contrast light and dark. Dark green foliage like teddy bear vine pops when contrasted against white or other light colors. Take the entire room into consideration when choosing houseplants in contrasting colors.
Learn more about decorating with Exotic Angel plants at CostaFarms.com, where there are more tips and tricks. Visit Costa Farms' YouTube channel for decorating and easy plant tips, as well.
About Costa Farms: Costa Farms is one of the nation's largest growers of ornamental plants. Founded in 1961 by Jose Costa, Costa Farms is a third-generation, family-owned business that globally stretches over 3,500 acres and employs 4,000 people. Along with thriving indoor and bedding plant divisions, Costa Farms operates merchandising and young-plant production divisions as part of its infrastructure, with operations domestically in South Florida and North and South Carolina, and abroad in the Dominican Republic and Far East.