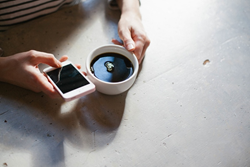 We believe fantastic, world-class coffee should be simple to order. Anybody should be able to order it, from anywhere.
Seattle, WA (PRWEB) October 06, 2016
It's about to get a whole lot easier to receive a bag of fresh roasted coffee thanks to Just Text Coffee, which just launched its innovative new project on the global crowdfunding platform Kickstarter.
Just Text Coffee is the first conversational commerce service of its kind: send a text and get fresh roasted, consistently delicious coffee at the doorstep in 2-3 days. It's an incredibly intuitive experience that gives users control of when and how they want to receive their coffee.
"We believe fantastic, world-class coffee should be simple to order. Anybody should be able to order it, from anywhere," says co-founder Nate Jones on the inspiration behind the project. "On the bus, from the kitchen counter, on your terms, not the roasters'. And that's why Just Text Coffee isn't tied to a subscription, it's the world's first on-demand coffee delivery service."
All this convenience means nothing if the coffee doesn't match the experience and Tastier, the company behind the service, has this covered as well. Over the last six months, co-founder Katherine Hartline studied solubility and roast profiles, and tweaked components to develop a method of blending Universally Brewable coffee-- coffee that tastes properly extracted, clean, and fresh regardless of the method used. Universally Brewable coffee gives drinkers the ultimate brew flexibility in real kitchens and works instantly with customers' existing setups and recipes.
The company has spent months developing their signature blends and have introduced three flavors which will be available with the service; New Beginnings, The Daily Grind, and Power Play, each with their own flavor profile, aroma, and coffee origin.
"Tastier is focused on making things easier for the home coffee brewer. That means better coffee that's easier to brew and easier to order fast. Just Text Coffee allows you to text an emoji and get high quality coffee on your doorstep 2-3 days later. No one else is serving customers like this, so we see it as an opportunity to solve a real issue," adds co-founder Katherine Hartline.
Order fresh roasted coffee with a text. Tastier Coffee is now live and available to support on Kickstarter: http://kck.st/2dCIu4P
About Tastier Coffee
Founded in 2016, Tastier is the first web-based specialty coffee roaster wholly focused on making the home brewing experience simple and delicious from start to finish. Tastier finds problems with the existing coffee ordering and brewing experience and solves them. Their most recent project, Just Text Coffee, is the conversational commerce service that allows users to message an emoji and receive fresh roasted, specialty coffee in 2-3 days. Tastier is also the developer of Universally Brewable Coffees, guaranteed balanced and delicious on any brewing apparatus.
Tastier coffee can be found at https://tastier.coffee and ships free anywhere in the United States.