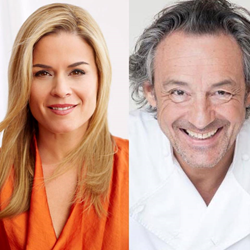 "We love FestForums!," declares Conference sponsor Leo Stanko, President of OTW Safety. "Conference Producers Laurie & Stu gave us personal attention, created a hip, creative and very collaborative space & vibe, delivering what a conference should be."
Santa Barbara, California (PRWEB) October 07, 2016
What are the ingredients of a great music, film, food, and beverage conference? FestForums' festival convergence heats up with illustrious speakers like Woodstock co-founder Michael Lang, a memorable keynote address by actor Bruce Dern, and festive parties every night. Add in some sweet daily networking opportunities, hip events like "Opine Over Wine with Women In Film," cool celebrities, cocktails from liquor sponsors, an off-the-hook wine, beer and spirits "Tasting," private concerts featuring Rita Coolidge, Canned Heat, Shawn Jones, and Kevens. Top it off with the prestigious "Best of the Fests" award ceremony, followed by a gastronomic dinner by some of the world's best chefs at a James Beard Celebrity Chef Tour dinner, a $10,000 sponsorship giveaway from Delta Air Lines and so much more!
FestForums, a Festival Industry Conference will be held at the upscale Santa Barbara's Fess Parker – A Doubletree by Hilton Resort on November 19 – 21, 2016. "We love FestForums!," declares Conference sponsor Leo Stanko, President of OTW Safety. "Conference Producers Laurie Kirby and Stuart MacNaught gave us personal attention, created a hip, creative and very collaborative space & vibe, delivering what a festival conference should - a positive and impactful experience, uplifting and achievable."
FestForums boasts an international faculty of speakers with a roster of panels fielded by a brilliant array of renowned thought leaders, actors, chefs, and recording artists.
Speakers Include:
Music:
Michael Lang, Co-Creator, Woodstock; Maureen Ford, President, National and Festival Sales, Live Nation; Danny Wimmer, CEO, Danny Wimmer Presents; Kevin Lyman, Owner, Vans Warped Tour; Robert Richards, Commercial Director, Glastonbury; Raymond Roker, Executive Producer, Goldenvoice; Brian Rucker, Director of Strategic Alliances, Pandora; Mike Shea, Executive Director, SXSW, etc.
Food and Beverage:
David Alan Bernahl, CEO, CLM Pebble Beach & Los Angeles Food & Wine Festivals; Katelyn Boyle, Red Frog Events; Cameron Collins, Co-Founder, Brew Haha Events; Barbara Fairchild, educator; Greg O'Byrne, Executive Director, Santa Fe Wine and Chile Fiesta and Taos Winter Wine Festival; Doug Richter, Managing Director, Global Partnerships, INVNT; Stefani Salem, Founder, Newport Beach Food & Wine Festival; John Trumble, Managing Director, NYC Wine & Food Festival, etc.
Film:
Sharon Badal, VP of Filmmaker Relations, Tribeca; Anita Cotif, Senior Manager of Event Production, Toronto International Film Festival; Gabrielle Carteris, Actor and President of SAG-AFTRA; Noah Cowan, Executive Director, San Francisco Film Society; Wendy Guerrero, Executive Director, Bentonville Film Festival; Laura Michalchyshyn Co-Founder and President, Sundance Productions; Barbara Morgan, Executive Director, Austin Film Festival; Barry Rivers, Director, Maui Film Festival, etc.
Don't Miss the Special Events
Exclusive events include the Saturday night Fiesta Lagunitas under the stars, which features a wine (two dozen French & Californian vineyards), beer, vodka, rum and whiskey tasting in the stunning Fess Parker Resort's Plaza del Sol, with dinner and live music from two-time Grammy winner Rita Coolidge, and artists Canned Heat and Shawn Jones. Other features include The Dome, Wave Therapy, complimentary massages, silent disco, and exciting surprises.
Panel Topics & Twenty/Twenty on the Twentieth
Panels commence Saturday, November 19th, and end Monday, November 21st, and include topics such as: the future of the festival industry, sponsorship best practices, new technology, safety, talent booking, celebrity chefs, festival convergences and sustainability. On Sunday, November 20th, there will be twenty talks lasting twenty minutes on various subjects like tasting wine, using your five senses at a festivals, a talk with Woodstock's Michael Lang and other fascinating topics.
Best of the Fests
The "Best of the Fests" Award Ceremony will take place on Monday, November 21, 2016 at The Fess Parker Hotel in Santa Barbara, CA. The awards are given to festivals for their stellar efforts in sustainability, charitable works and innovation. Lifetime Achievement Awards will be presented to Michael Lang, Bruce Dern and Chef Gilles Epié. Music legend Rita Coolidge will also be honored. Recording artist Jack Johnson and his wife Kim Johnson will be honored for their contribution to promoting Sustainability at events.
In accepting the award for Sustainability, Jack Johnson had this to say "It's an honor to receive the FestForums Sustainability Award. The conference will be a perfect opportunity to further conversations and inspire people to take the next steps in greening festivals across the country. There are so many amazing events around the world which have made a strong commitment to sustainability and have been successful in engaging festival-goers in environmental action. I'm excited to be a part of these conversations and see these changes happening in the festival community."
The James Beard Celebrity Chef Tour Dinner –
Monday November 21st
Foodies will enjoy seven delectable courses of haute cuisine paired with California and French wines prepared by an array of celebrated international chefs. The James Beard Foundation's Celebrity Chef Tour dinner series brings a taste of what happens at the James Beard House in New York City to more than 20 cities across the country each year.
The evening's chefs include celebrated Parisian Chef Gilles Epié and LA-based French Chef Christophe Émé. Another of the evening's accomplished chefs, Cat Cora, was a big hit at last years' FestForums conference and is a FestForums Advisory Board member. Manhattan Beach Chef David LeFevre, Esquire Magazine's 2015 Chef of the Year Ray Garcia, and The Fess Parker Doubletree Resort Executive Chef Kirk DeLong round out the roster of chefs.
This chic Santa Barbara dinner begins at 7 p.m. with a cocktail reception followed by a one-night-only, multi-course dinner (with premium wine pairings), and ending with a decadent dessert course and a Q&A session with the evening's chefs. You won't want to miss this gourmet culinary experience! A craft beer pairing will also be provided by sponsor Lagunitas Brewing Company. Tickets for the dinner are limited, and priced at $230.00, inclusive of tax and tip. Tables of ten are specially priced at $2,000. For more information on the dinner contact: Stu@FestForums or call 401.835.8813.
Community Open House At The Wayfarer Hotel, Santa Barbara, October 27th
Interested in learning more about the conference? Join FestForums' Producers Laurie Kirby & Stuart MacNaught for a free annual informational Open House, sponsored by Lagunitas Brewing Company and hosted by The Wayfarer Hotel on Thursday, October 27th from 5:00-7:00 p.m. We look forward to seeing you there or at the conference!
FestForums Santa Barbara 2016 Sponsors:
Sponsors of the event include: Delta Air Lines, Lagunitas Brewing Company, Vendini, Eventbrite, Sched, Tito's Vodka, OTW Safety, GigSalad, Dented Brick, Sugarlands Distilling Company, Underground Press, Hotels for Hope, ACCESS Event Solutions, All Aces Promotional Staffing, Boomset, National Event Services, TOURtech, Winmo, InItLive, SquadUp, Tossware, PDC, Ticketfly, Showclix, Step and Repeat LA, TicketForce, Pulp Pours, TicketIQ, Festpicks, Downey's Desserts, CMC Event Rentals, Optimystic Media, Road Radios, Mobile Charging Lockers, pc/nametag, XI Media Productions, bluemedia, Red Frog Food & Beverage, Teeki, Kevita, The Wayfarer, The General Store, Cinetransformer, TicketSocket, TicketGuardian, Wave Therapy, Boomer Fest Days, ShelterBox.
Partner Vineyards:
Our wineries include: Eric Kent, Grey Stack, Keenan Winery, Artiste Winery, Falcone Family Vineyards, Bernardus Winery, Epiphany Wine, Fess Parker Winery, and The Foley Food and Wine Society.
Media Partners:
Our media partners include: Amplify Media, EDMbiz, Canadian Music Week, TourLink, ProductionHUB, Pollstar, BillBoard, FilmFreeway, and SF MusicTech Summit.
###
Follow FestForums on social media:
Facebook: @Festforums
Twitter: @Festforums #FestForumsSB2016
Instagram: @festforums16
Linked In: AboutFest l FestForums
FestForums.com