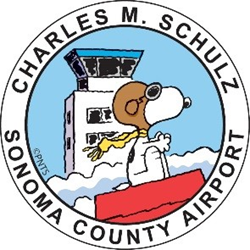 Santa Rosa, Calif. (PRWEB) October 10, 2016
Charles M. Schulz – Sonoma County Airport (STS) announced today that American Airlines will offer nonstop daily service to Phoenix-Sky Harbor International Airport (PHX) starting February 16, 2017. Flights will be operated by American Airlines partner SkyWest on its Bombardier CRJ-700 – a 70-seat jet aircraft. The seating is a comfortable 2-class configuration offering three rows of First Class, inflight Wi-Fi, and food and beverage service. Tickets for these afternoon flights can be purchased starting today on http://www.aa.com.
Less than two hours each way, the short flights will initially arrive into Sonoma County at 3:42 p.m. and depart daily at 4:12 p.m. from STS to PHX. The flights present an opportunity for easy, convenient connectivity to eastbound destinations including: Albuquerque, Dallas, Newark, Palm Springs, Colorado, and Salt Lake City from PHX.
ABOUT CHARLES M. SCHULZ – SONOMA COUNTY AIRPORT (STS)
The Charles M. Schulz - Sonoma County Airport (STS) is located in the heart of Wine Country, 55 miles north of the Golden Gate. The Airport offers daily direct flights on Alaska Airlines to Seattle, Portland, Los Angeles, Orange County, and San Diego, twice a week flights on Allegiant Air to Las Vegas, and Phoenix-Mesa, and nonstop daily flights to Phoenix on American Airlines starting in February 2017.
Offering a hassle-free experience with shorter lines, the Charles M. Schulz - Sonoma County Airport also features convenient ground transportation, easy and affordable parking, the Alaska Airlines Wine Flies Free program and the on-site Sky Lounge Steakhouse & Sushi Bar.
For additional airport information, visit: http://www.sonomacountyairport.org. Follow Charles M. Schulz – Sonoma County Airport on Facebook and Twitter.
For further information, journalists are asked to contact Jon Stout at jstout(at)sonomacountyairport(dot)org or (707) 565-7243.