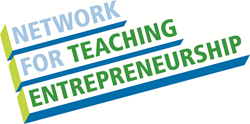 New York, New York (PRWEB) October 10, 2016
Baltimore eight graders Anna Doherty and Hope Sacco won the 2016 NFTE National Youth Entrepreneurship Challenge this week, presented by the Citi Foundation.
Doherty and Sacco, both students at Roland Park Middle School, were awarded the top prize for their business, Girls Coloring for Change. The prize package included $5,000 in support of the business, a $5,000 college scholarship, and a variety of business and technical products and services totaling approximately $25,000.
Doherty and Sacco are two socially minded young women who noticed the gender stereotypes influencing themselves and their peers and decided to take action.
"We felt there was a lack of awareness of powerful role models," said both winners. "We also saw that many women have unrealistic body images and we recognized its toll on a girl's confidence. So we combined our love for art and our wish to empower girls by creating a coloring book."
Girls Coloring for Change embodies feminism, promotes learning about female role models who have advanced various aspects of culture, and encourages the empowerment of girls and women.
"We are so excited and honored to win the National Youth Entrepreneurship Challenge," Doherty and Sacco said. "Thank you for the support of our teachers, classmates, and mentors. We learned so much and it was very helpful in our preparation."
At the day-long NFTE competition, runners-up included:
•Tess Beatrice of Framingham, MA, for her company called Underdog Comics, which offers stories starring diverse, authentic characters including ethnic minorities, the LGBT community, and people with physical and mental disabilities
•Matthew Sarreshtehdari of Downey, CA, for his company, Rephone, which buys broken phone screens from phone repair shops, refurbishes the screens, then redistributes the new screens back to the repair shops at a price that undercuts the market by $5–$10.
Both runners-up won prize packages worth $5,000.
The winner of the 7th annual NFTE Elevator Pitch Challenge, a separate, lead-in program to the National Challenge where winners are selected by online public voting, included Carlton Baker of Clinton, MD, who took home $2,500 for his business, FixYoKicks, a shoe restoration service that uses a cleaning process customized specifically for sneakers.
All of the finalists are NFTE business plan competition winners from their respective regions and were required to develop and present original business plans as part of a year or semester-long class at their school, based on NFTE's award-winning, project-based curriculum. NFTE students visit area businesses, play educational games, and learn from hands-on activities which teach the entrepreneurial mindset as well as business concepts.
"We're exceptionally proud of our students," said Shawn Osborne, CEO of NFTE. "Through activating the entrepreneurial mindset in young people and building their knowledge about business startups, our efforts are impacting young people on an individual basis and empowering them to be self-sufficient for a lifetime."
Judging the final round of the top three teams were David Chubak, Head of Productivity, Citi; Scott Gerber, Founder & CEO, Community Co; Lisa Price, Founder, Carol's Daughter, Inc.; Evin Robinson, Co-Founder, New York On Tech, and NFTE Alum; Tommy Stadlen, Co-Founder, Polaroid Swing; and Master of Ceremonies Lee Hawkins, Wall Street Journal.
"We are honored to support opportunities through NFTE that help the next generation of young leaders build the entrepreneurial mindset and reach their academic and career goals," said Brandee McHale, President of the Citi Foundation. "By honing innovation and problem-solving skills, NFTE students are learning what it takes to tackle future personal, community, and global challenges"
Student photos, more detailed biographies, and information about their businesses is available.
Network for Teaching Entrepreneurship
Network for Teaching Entrepreneurship (NFTE) is an international nonprofit that activates the entrepreneurial mindset in young people and builds their knowledge about business startup. Students acquire the entrepreneurial mindset (e.g., innovation, self-reliance, comfort with risk), alongside business, STEM, and presentation skills—equipping them to drive their best futures in the 21st Century. NFTE focuses its work on under-resourced communities, with programs in 23 locations in 10 countries. To learn more, visit http://www.nfte.com, like NFTE on Facebook at http://www.Facebook.com/NFTE, or follow us on Twitter at @NFTE.
About the Citi Foundation
The Citi Foundation works to promote economic progress and improve the lives of people in low-income communities around the world. We invest in efforts that increase financial inclusion, catalyze job opportunities for youth, and reimagine approaches to building economically vibrant cities.
In 2014, the Citi Foundation launched Pathways to Progress, a three-year, $50 million initiative to give 100,000 low-income youth, ages 16-24, in the United States the opportunity to develop the workplace skills and leadership experience necessary to compete in a 21st Century economy. Pathways to Progress comprises programs that are helping youth build an entrepreneurial mindset, including with the Network for Teaching Entrepreneurship, acquire leadership, financial and workplace skills, and begin to engage in the formal economy through a first job. Through these economic onramps, youth are actively steering their futures towards financial success. To learn more, visit citifoundation.com.