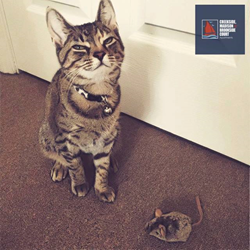 A recently released study found that therapy pets can help first-year university students suffering from homesickness and possibly help in lowering college dropout rates.
SHIPPENSBURG, PA (PRWEB) October 10, 2016
Anxiety and oftentimes depression are by no means uncommon on college campuses. With the stress of school work, extracurricular activities and balancing a social life, some students find it difficult to stay focused. For this reason, some apartment complexes allow "comfort" animals in order to reduce the stress of their residents. At Shippensburg University, Madison, Creekside Court & Brookside Court Apartments are no different.
Formally a "no pets allowed" complex, the apartments changed their ways when they realized that being "pet friendly" would help their residents enjoy their home away from home even more. Most people do not think that college students would be lonely, but many freshmen and sophomores are transitioning from living at home their whole life, to suddenly living on or off campus by themselves.
It can be a very stressful transition, and can make students feel isolated or overwhelmed. More students are now starting to get a pet — especially a cat or dog — to cope with this and feel companionship. In a recent study, avoiding loneliness was the top reason given by students for their reason behind having a pet.
Studies have shown that pets can oftentimes reduce tension and improve one's mood. A pet can help a student get more physical activity and help with getting them into a natural routine, which helps immensely with mental health and depression. Some extra physical activity is excellent for physical and mental health. Additionally, entering an animal's natural routine can help a student stay on track. Having a daily routine has been proven to help people with depression.
Since Madison, Creekside Court & Brookside Court made the change, an array of furry friends has been added to leases throughout each of the complexes. Residents who do not have pets find joy in seeing their apart-mates' pets wander around the grassy area outside. "Allowing us to have pets is a huge benefit to everyone in the building. My neighbors had a super friendly, playful dog that always made my day a little bit better whenever I saw him," stated Emily McGinn, who lived in Brookside Court last semester.
The offices at Madison and Creekside are confident that their residents are now living happily and stress free with their furry friends by their side. Owning a pet may not be for everyone, but thanks to the staff, residents at Madison and Creekside now have the option available to them if they think it would be beneficial. For more information on Madison, Creekside Court & Brookside Court Apartments and their pet policy, check out their website at http://www.shipunivapts.com.