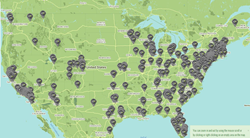 "This is a fantastic tool for limousine operators and I can't believe something so valuable is free"! - Christine Bennett, Showcase Limousine
Moorpark, Calif. (PRWEB) October 07, 2016
Chosen Payments is the official Affinity Program credit card processing company of the National Limousine Association. Members of the NLA are encouraged to process credit cards with the Chosen Payments and in exchange Chosen Payments sponsors industry trade shows, executive retreats and state association meetings.
Jeff Brodsly, CEO of Chosen Payments serves on the board of directors of limousine associations in California, New Jersey, Colorado and the New England area. It was through his service as a vendor representative that Brodsly realized Chosen Payments was in a unique position to connect hundreds of limousine services together by implementing new technology.
The company has launched an internet portal that allows a Chosen Payments client in Florida to quickly locate another Chosen Payments client in California using an interactive visual map. The portal allows companies to even see what type of vehicles the affiliate offers to make sure and connect with the right company for the job. Using a single "connect" button, limousine services can immediately share information about a particular assignment between each other.
Chosen Payments began investing in the portal development more than eight months ago. The company plans to offer the service free of charge to its clients with the intention of fostering new business between its clients while filling a need for rapid sourcing of services.
First Data, the world's largest credit card payment facilitator in the world has awarded Chosen Payments its President's Award for the past four years in a row recognizing the company's commitment to "White Glove Service Delivery". This award is bestowed upon the top ranked payment processing companies in the nation.
Brodsly founded the company in 2008 after working for many years in the credit card processing business as a sales agent. Brodsly stated that he started Chosen Payments with merchants in mind and had a vision of providing more than just credit card processing services. The company motto is, "Your Partner in Success" and to that end the company has entrenched itself through financial contributions and support of vertical industries such as the ground transportation industry, jewelry stores, uniform retailers, funeral homes, optometrist offices and car dealerships.
The company's partnership approach includes providing personalized customer service through the use of dedicated relationship managers and cost effective solutions. The company provides services such as credit card processing, check processing, gift/loyalty programs, ATM's, merchant cash advance and mobile applications. For more information about Chosen Payments, visit their website at chosenpayments.com.