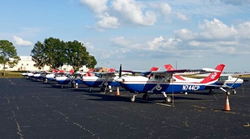 Lakeland, Fla. (PRWEB) October 06, 2016
Civil Air Patrol's Florida Wing continues to prepare for Hurricane Matthew, expected to slam into the state's eastern coast as a Category 4 or even a Category 5 storm within hours.
Earlier today, the wing moved to activation level HURCON 1 in anticipation of tropical storm force winds striking the southern peninsula by this afternoon.
Under the Hurricane Condition alert scale used by the U.S. Air Force, HURCON 1 is the highest level of alert indicating the state of emergency or preparedness for an approaching hurricane.
"Though based on weather conditions, the HURCON 1 status signals a completion of storm-proofing corporate assets and directs our members to focus on executing their personal emergency plan," said Maj. Jeff Carlson, the Florida Wing's public information officer.
The wing activated its hurricane plan last week and began the planning process for safeguarding its fleet of airplanes and other resources needed for the response mission after the storm passes. The decision on where to relocate the aircraft was made once the storm's track became more defined.
"Our members have accomplished a herculean effort to prepare for this major hurricane," said Wing Commander Col. Henry Irizarry. "The highly professional manner in which our people have carried out their duty is impressive."
In addition to securing mission assets, the wing's communication team has taken steps to ensure the radio network is available for the response mission. The communication network includes more than 400 radios and is connected to CAP's nationwide high-frequency network.
Even though Matthew has not hit the state, discussions have already turned to the response phase in anticipation of aerial photography requests from the Federal Emergency Management Agency and state emergency management. CAP's volunteers are recognized as a cost-effective resource and are used by emergency managers as a primary source for damage assessment imagery.
As rain bands from Matthew started to track across south Florida, Lt. Col. George Schaefer, operations chief, was already making plans to move planes as soon as possible after the storm.
"We need to have aircraft in a position to launch and quickly be on station once we receive the requests," Schaefer said. "It's a team effort. We've received an offer from Georgia Wing to help move the pilots needed to reposition the airplanes after the storm."
"A total of 27 sorties were flown to relocate 17 aircraft to Florida's panhandle area," said Maj. Sam Chiodo, incident commander. "This included the flights needed to return the ferry pilots to their home base."
Meanwhile, the Georgia Wing, at the request of the Georgia State Patrol Aviation Division, has also repositioned assets in preparation for disaster relief activities after Hurricane Matthew passes. Two Georgia Wing planes and other assets were moved from coastal areas to inland locations so they will be immediately available when called upon, said Col. Richard Greenwood, wing commander.
"The volunteer professionals of the Georgia Wing stand ready to assist our communities and state," he said. "We are currently working with GEMA (the Georgia Emergency Management Agency), and expect to begin supporting relief efforts once the storm passes."
"Our thoughts and prayers are with our neighbors on the coast, as well as those in surrounding states who are preparing for the arrival of this storm," Greenwood said.