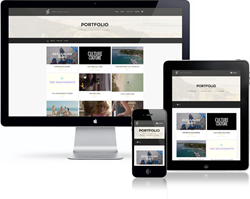 We Craft Beautiful WordPress Websites.CHRS specializes in creating Breathtaking, Feature Rich Websites that enhance your Business.
Los Angeles, CA (PRWEB) October 11, 2016
CHRS Interactive, Los Angeles Based WordPress Designer and Developer is Pleased to Announce the Launch of their WordPress Agency Website - chrsinteractive.com. The new agency website promises to highlight the expertise of the WordPress designers and developers at CHRS, as well as their use of cutting-edge technologies to deliver interactive websites tailored to businesses large and small. Every site designed and developed by CHRS Interactive is customized with state-of-the-art web-based tools from e-commerce to entire content management systems.
CHRS Interactive understands that today the consumer's main source of information is the internet, making a strong Web presence critical for today's businesses. The simple websites of the past are not sufficient to garner consumer traffic and rise above the competition. To that end, CHRS is ready to provide their clients with breathtaking, feature rich, interactive websites that attract new customers, retain current customers, increase revenue, and enhance business performance. Each attention-getting site is tailored to the client's company, no matter its size, and promises to deliver flawless usability for customers visiting for the first time or the hundredth time.
CHRS has the expertise to develop clients' online images, partnering with each client and working to design, develop, and deploy their website, whether a new custom WordPress website or the needed conversion of an old site to a new and improved WordPress website. The CHRS tailored process features design including the user's experience, wire framing, and visual design; development with front-end, back-end, and mobile development; and deployment comprised of an ongoing partnership, support, and future planning and improvements. CHRS clients can always find the help they need at every step of the process from start to finish and beyond.
The new website highlights CHRS Interactive's Custom WordPress design services, WordPress development services, ecommerce sites (WooCommerce), CMS development, PSD to WordPress Conversion, existing website conversion to user-friendly WordPress, as well as featured design services for advertising, print, logos, branding, user interfaces, e-mail, and social media. In addition to WordPress, the professional team at CHRS are experts in responsive web design and Magento Ecommerce Web Design, incorporating the latest technology into every project.
From WordPress design and development to apps to analytics to coding and content management, CHRS Interactive delivers at prices designed to fit any budget, always on time, and always tailored for success. CHRS is truly the expert in web-related services including exceptional WordPress design and development, Magento Ecommerce Web Design, website builds and conversions, and custom content management systems.
About CHRS Interactive
CHRS Interactive, with over a decade of marketing, design, development, is among the top WordPress Web Design firms in Los Angeles, California. Clients who choose CHRS gain these years of expertise, promising digital solutions, a tailored plan, and a unique image that delivers more prospects, enhanced sales, and a growing audience. CHRS is poised to customize a plan for every client, large or small, new or established, delivering seamless solutions and smooth function from start to finish and in the years' ahead.
Contact Details:
For more information and pricing details, contact CHRS Interactive at 818-568-4798, or visit http://www.chrsinteractive.com.