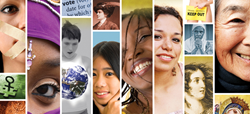 "When some people hear about a program called 'Applied Women's Studies,' I think they assume it's focused on 1960s-style protests and angry activism; they couldn't be more wrong." --Professor Linda Perkins
Claremont, California (PRWEB) October 07, 2016
What good is knowledge that isn't used?
 
That question underpins Professor Linda Perkins' work and service as director of the university's Applied Women's Studies program.
"The word 'applied' is the key here," Perkins explains.  "Our AWS students are trained to take what they're learning and put it to practical use."
Next week, on October 14, more than 20 alumni and faculty will convene on CGU's campus to describe how they've taken their AWS training into a multitude of fields and are creating meaningful impact in the lives of countless people.
These alumni will participate in "The Next Wave: Effecting Change Through Applied Women's Studies," a conference to celebrate the program's 15th anniversary and pioneering work in a rapidly-growing field of study. (For more info about the conference, see the bottom half of this article.)
"When some people hear about a program called 'Applied Women's Studies,' I think they assume it's focused on 1960s-style protests and angry activism; they couldn't be more wrong," Perkins says.  "What we've envisioned with AWS is a program to give every student—male or female—real experience and training that prepares them for the needs of a complicated world."
Nothing better demonstrates the wide net of professional possibilities for an AWS student than the conference's participants, who have gone on to careers in public health, political activism, higher education, social entrepreneurship, digital marketing, consulting,  development, and much more.
"From the very beginning I thought we had a chance to get an amazing group of incoming students," says Professor Jean Schroedel, the program's founding director. At the October 14 conference Schroedel will present "A Brief History of AWS." "The response to our survey of undergraduate women studies students was very positive so I was, and am not, surprised that our alumni are doing amazing things."
"Next Wave": Conference schedule
 
Held in the university's Albrecht Auditorium, the conference will open Friday morning with remarks from CGU Provost Jacob Adams; Professor Tammi Schneider, dean of the School of Arts and Humanities (which houses the AWS program); and Schroedel.
They will be followed by keynote speaker Sarah Smith Orr, a CGU alumna, social entrepreneur, and expert on management and leadership.
Following Smith Orr's remarks, the conference schedule will focus on alumni panels, organized by the fields and disciplines in which these AWS alumni are making a difference:
  
Friday, October 14
10:15 am – 11:15 am – 
Panel 1: Politics and Policy and Activism
·      Pamela O'Leary '08, Director of Sponsor Development, UPWARD
·      Susan Graham '01, Vice President of American Mothers, California
·      John Erickson '11, Community Events Technician, West Hollywood; PhD Candidate, American Religious History
·      Porter Gilberg '09, Executive Director, The LGBTQ Center Long Beach
Moderator – Professor Dionne Bensonsmith, WGS Adjunct Faculty
11:30 pm  - 12:45 pm  - 
Panel 2: The worlds of education
·      Nana Osei-Kofi '03, PhD, Associate Professor and Director of Difference, Power, and Discrimination Program, Oregon State University
·      Jodi Davis-Pacheco '07, PhD, Full-Time Lecturer, Women and Gender Studies Program, California State University, Fullerton
·      Janell Navarro '08, PhD, Assistant Professor of Ethnic Studies, Cal Poly San Luis Obispo
·      Caeli Waldron '15, Coordinator of Girls Learn International, Feminist Majority Foundation
·      Shira Brown '05, Director, Women's Research and Resource Center and Lecturer, Gender and Women's Studies Department at California State University, Northridge
Moderator – Professor Cándida F. Jáquez, Scripps College and WGS faculty
  
2:00 pm – 3:00 pm – 
Panel 3: The Non-Profit and For-Profit Experience
·      Christina Lam '08, Digital Marketing Consultant, Cup of Joe Social
·      Meredith Anderson'13, CEO, Meredith & Co.
·      Tara Chaffee Robinson '06, Chief Development Officer, Mission Asset Fund and Editor-in-Chief, Golden Gate Mothers Magazine 
Moderator – Professor Jean Lipman-Blumen of the Drucker School, Claremont Graduate University
             
3:15 pm – 4:15 pm  - 
Panel 4: Health, Motherhood, and Religion
·      Jennifer Lee Hawthorn-Mayes '09, MA IBCLC, Director of Programs and Co-Founder, Daisy C.H.A.I.N (Creating Healthy Alliances In New-Mothering)
·      Mercy Ajuonu '15, PhD Candidate in Community and Global Health, CGU
·      Mariam Youssef '15, PhD Candidate in Religion at CGU and faculty in Gender Studies, Cerritos College
Andaye Hill '14, Project Director of Community Services, Glendale Healthier Community Coalition
Moderator – Professor Sallama Shaker, Politics and Policy, Religion and Applied Women's Studies, Claremont Graduate University
 
The conference will close with remarks from Director Linda Perkins, followed by a networking reception at the CGU President's House.
AWS: A brief history
Though the Applied Women's Studies Program was established in 2001, the original idea for a graduate-level program in women's studies was already being discussed in the 1990s, Schroedel recalls.
The originator of the idea was Professor Karen Torjesen, and, she adds, key roles were played by several members of the university's faculty, including Jean Lipman Blumen, Janet Farrell Brodie, Tammi Schneider, Daryl Smith, Kathy Pezdek, and Wendy Martin.
The "applied" aspect of the fledgling program—providing a serious experiential component—was something Schroedel introduced and developed with her students by surveying non-profits, businesses, and government agencies to determine what skills were essential for AWS students to learn.
 
"All of these elements came together in the design of our program," she says, "and as I look at where we are now, fifteen years later, I can say Linda Perkins has done an incredible job as director. Kudos to her and all of our alumni."
 
THERE IS STILL TIME TO REGISTER!  For more information on attending the AWS conference, visit this link:  http://www.cgu.edu/pages/4546.asp?item=8969