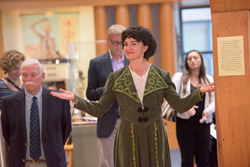 (PRWEB) October 07, 2016
History comes alive at For All Who Wish to Learn, 100 Years of Emily Griffith's Legacy, a multi-media interactive exhibit in The Denver Public Library Central branch's Gates Reading Room through December 2016. Emily Griffith will make appearances on October 8, November 19, and December 10 from 11 a.m. to noon, where she will share the story of her life, legacy, and tragic (and still unsolved) murder. The exhibit itself is open to the public during all library open hours.
On September 9, 1916, Emily Griffith opened the doors of Opportunity School, expecting just 300 students. In the first week, they served more than 1,400 students. 100 years later, Emily Griffith Technical College (EGTC) serves more than 7,000 students annually. The College and Emily Griffith Foundation have spent 2016 celebrating the life and legacy of Emily Griffith and her Opportunity School. For All Who Wish to Learn showcases some of the hundreds of classes and programs that more than 2 million students have studied throughout the school's history. Artifacts and images tell the story of the school's evolving curriculum and the positive impact graduates have had on Denver.
EGTC is also seeking to locate and celebrate the estimated 30,000 individuals still living in the metro Denver area who have studied or worked at the school. Schomp Automotive is providing a 3-year lease on a MINI Cooper to one fortunate alumnus or former employee. All of those interested can register at http://www.egfoundation.org/alumni. The winner will be announced December 3.
Emily Griffith Foundation commissioned a study by BBC Research and Consulting (BBC) to analyze the economic impact EGTC has had over the past ten years. With several topics considered, it is estimated that the school has generated a $2.2 billion economic impact on the Metro Denver area in the past 10 years alone. One of the most relevant findings is that for every $1 of state investment in EGTC, there is a $10 annual benefit to the local economy. For every $1 invested by the student, there is a $7 annual earning potential.
Emily Griffith Technical College boasts one of the lowest tuition in the state along with some of the highest completion and job placement rates among Colorado's post-secondary institutions. Emily Griffith Foundation provides financial support to help all students graduate debt free. Programs continue to evolve in response to industry needs and the changing economy in Denver and Colorado. Learn more at http://www.emilygriffith.edu.