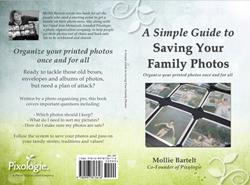 Currently, our E-Z Photo Scan library has many different books related to all sorts of topics related to photo organization and digitization. This newest publication has earned its place on our top shelf in the #1 position. ~ E-Z Photo Scan
Milwaukee, WI (PRWEB) October 08, 2016
Too few people are saving their photos and the professional photo organizers at Pixologie, Inc. are taking a stand. It's time for people to fix their photo mess.
Their newly released book "A Simple Guide to Saving Your Family Photos" provides their photo sorting system to get the job done.
Pixologie co-founders Mollie Bartelt and Ann Matuszak have helped families save hundreds of thousands of photos. They have met many more people who know they need to get their photos in order, but do not take action.
How can a realistic path exist when they must deal with inherited photo albums, their own mass of albums, boxes and envelopes of pictures accumulated over decades and today's massive accumulation of digital photos?
With the introduction of Pixologie's system to save photos in an affordable easy-to-read guide, now anyone can organize their printed photos like a pro. "A Simple Guide to Saving Your Family Photos," includes:

Specific advice on which pictures should be saved
Pixologie's four step system to organize photos
Picture examples of photo organizing projects
Direction on how to back-up photo collections
In addition to their book, Pixologie has launched an Instagram account, "#fixmyphotomess" to provide quick tips and pictures related to getting photos out of chaos and back into life to celebrate and share.
Media Opportunities
We can:

Demonstrate how to sort a mess of pictures with our system – 2-3 minutes
Bring along a display of unorganized photos and tools needed to sort the photos – 1-2 minutes
Provide three quick tips on how to consolidate and back-up digital photos – 2 minutes
Review copies can be requested via mollieb(at)pixologieinc.com
Pixologie is a photo organization and media conversion company founded in Oak Creek, WI in July of 2013. Pixologie offers both local services as well as national licensing opportunities for people interested in starting a photo organizing business.
Pixologie, Inc.
9803 S 13th Street
Oak Creek, WI 53154
414-731-1881
http://www.pixologieinc.com