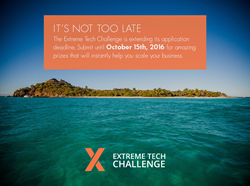 "I'm looking forward to meeting some next generation entrepreneurs in the enterprise and infrastructure space - people with big ideas and clear vision, with an eye for transformative, high-impact solutions." - Tom Siebel, CEO C3 loT, Judge XTC 2017 Finals
New York City, NY (PRWEB) October 08, 2016
Extreme Tech Challenge 2017 - Lightning strikes twice for aspirants of the entrepreneurial world as Extreme Tech Challenge (XTC) has extended the submission deadline to October 15, 2016, opening its doors for even more innovative startups to enter the dauntless competition. Amassing a prodigious number of applications from across the globe thus far, XTC 2017 hopes to further inspire contenders to enter the race to pitch Sir Richard Branson at the finals on Necker Island.
Competitors of XTC 2017 vie for the opportunity of a lifetime while gaining valuable infrastructure for their budding endeavors across three key stages of the contest beginning with the Top 25 Unveiling in New York City this November at CES Unveiled New York. Showcasing the future of innovation throughout the competition, Semi-Finalists will present live at CES® 2017 on stage to a panel of judges led by Gary Shapiro, Consumer Technology Association (CTA™) President & CEO. As XTC coalesces an unrivaled panel of judges at each key round, XTC 2017 contenders can look forward to pitching their ventures to the most brilliant minds in business today.
Returning for another year on select panels are principal judge Sir Richard Branson (Necker Island), founding partner of leading venture capital firms Draper Associates and DFJ, Tim Draper (CES), and CEO of Consumer Technology Association Gary Shapiro (CES), who will be joined by a handful of compelling mentors.
"The Extreme Tech Challenge has such synergy with CES," said Gary Shapiro, president and CEO, Consumer technology Association (CTA). "This program encourages entrepreneurs to use technology and to solve some of the world's greatest challenges. CES is the global stage for innovation and the perfect place to identify these emerging leaders with the potential to change the world for the better."
Bringing a collective of knowledge and experience to an impressive roster of XTC veteran judges, the 2017 freshman class of judges includes: Managing Partner of Aspect Ventures Theresia Gouw (Necker Island), Veteran software entrepreneur and founder of C3 loT, Tom Siebel (Necker Island), Venture capitalist, founder and CEO of Breyer Capital, Jim Breyer (Necker Island) and Founder and Managing Partner of SoftTech VC, Jeff Clavier (CES).
"I'm looking forward to meeting some next generation entrepreneurs in the enterprise and infrastructure space - people with big ideas and clear vision, with an eye for transformative, high-impact solutions." - Tom Siebel, CEO C3 loT, Judge XTC 2017 Finals
Encapsulating a multitude of sectors within the business world, last year's challenge brought leading innovations in genomics, robotics, virtual reality and legalized cannabis to the center of the public eye. XTC 2017 aims to broaden the scope of contenders, bringing to light cutting-edge companies whose ingenuity are shaping the future of society.
Join the race to Necker Island -- Applications are now open through October 15, 2016!
XTC 2017 is hosted by MaiTai Global, a vanguard collective of the world's leading entrepreneurs, creators, and athletes. Participants combine their energy, network and resources to help each other achieve professional success, pushing the limits of work and play while also fueling philanthropic activities around the world.
About CES
CES is the world's gathering place for all who thrive on the business of consumer technologies. It has served as the proving ground for innovators and breakthrough technologies for 50 years—the global stage where next-generation innovations are introduced to the marketplace. As the largest hands-on event of its kind, CES features all aspects of the industry. Owned and produced by the Consumer Technology Association (CTA)TM, the technology trade association representing the $287 billion U.S. consumer technology industry, it attracts the world's business leaders and pioneering thinkers. Check out CES video highlights. Follow CES online at CES.tech and on social.