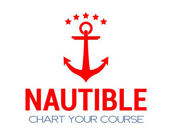 Wilmington, DE (PRWEB) October 07, 2016
Nautible (nautible.com) in early 2016 launched a yacht premium brokerage service.
"This is a new type of yacht brokerage that exclusively represents the buyer and their interests," says company CEO and founder David Keeton. "We provide our clients with industry knowledge and gain the upper hand in negotiations, which leads to a better price for the buyer. We find the best financing option and insurance rates, ensuring clients don't overpay for loan interest and insurance. We are like the boating fusion of Yelp and Truecars. In the end, the customer wins!"
To date, this business model has been very successful. One happy client raved, "What a great experience! I ended up getting more boat than I thought I could afford and will be using Nautible for my next boat purchase."
In addition to yacht brokerage, Nautible also provides clients with a detailed list of charter locations to create once-in-a-lifetime boating experiences. The company also helps with logistics and maintenance concerns so owners can focus on enjoying their pastime.
To buy a yacht and get a full range of assistance and advice before, during and after the sale, contact Nautible today. Learn more by visiting nautible.com/yacht-purchase and check out the FAQ at nautible.com/faq.
About Nautible
Nautible is a B2C company that exclusively represent the buyer side in the transaction of a yacht or boat. With innovative and progressive yacht brokerage, Nautible tailors specific searches for the new owners, sets up showings and sea trials at convenient times, assists clients in finding the financing and insurance they need and reimburses new owners 90 days after their closing for the yacht survey expenses. Clients new to boating, as well as those with years of experience, are invited to enjoy this efficient, new, transparent, customer-focused yacht brokerage service.
Contact Details:
Nautible, LLC
Wilmington, DE
Phone: 1-855-Nautible
Source: Nautible
###