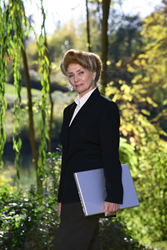 Grants Pass, OR (PRWEB) October 07, 2016
Sharon Kleyne, Water vapor evaporation expert and Water Life Science® advocate, recently celebrated two-plus decades of breakthrough research into evaporation of life-giving water vapor and supplementation of the body with Trade Secret tissue culture grade water at a gathering at Bio-Logic Aqua® Research Water Life Science®'s research center in Grants Pass, Oregon.
Sharon Kleyne, who has earned the respect and admiration of scientists, doctors and researchers around the world for her work in water vapor evaporation and supplementation of the body's water vapor, has single-mindedly carried the torch of water research since the 1980s when she launched her first product, Nature's Mist® Face of the Water®, followed by Bio-Logic Aqua® Research Water Life Science®'s signature product, Nature's Tears® EyeMist®. "They're still the only Trade Secret tissue culture grade water products to treat over-evaporation and dry eye disease on the planet," said Kleyne.
L. DeWayne Cecil, Ph.D., Founder and Chief Scientist for Sustainable Earth Observation Systems, LLC wrote to Sharon Kleyne: "After 35+ years working in science and applications, it was rejuvenating for me to meet you and hear your ideas on clean water research and education."
Gerald H. Pollack, Ph.D. of the University of Washington and the discoverer of the "fourth phase" of water, described, in part, Sharon Kleyne's importance to new water technology. "When … cell water is even partially depleted," said Pollack, "the cell becomes dehydrated. Dehydrated cells cannot function properly. Evidence suggests that this kind of dehydration may be a central factor in all kinds of diseases. Sharon (Kleyne) has a great capability to let the world understand this important concept and work toward amelioration."
Boise State University Professor and Researcher, Julia Oxford, Ph.D., recalled that "Sharon (Kleyne) founded Bio-Logic Aqua® Research to study and develop methods to deliver water vapor and prevent human dehydration. Sharon is concerned about all people and understands that there is currently a fresh water crisis on a global scale. Sharon believes that all people have a right to a safe and clean water source." Oxford added that "Periodic testing of Biologic Aqua (tissue culture grade water) is conducted to guarantee that the water is of a specific quality and characteristic. Thirty years of periodic testing by a water quality laboratory has demonstrated that no changes have occurred in the quality of the water at the source."
John NG, M.D. of Oregon Health and Sciences University, praised Sharon Kleyne's organization and consensus-building skills, as well as her ability to inspire others: "Sharon Kleyne has a unique ability to bring together scientists, educators, medical experts and industry to collaborate in addressing the issue of water purity and security. Her networking and collaboration already spans the globe with her endeavors in Europe, Asia and the Americas."
Charlie Zhao, Ph.D. of Hope Genes Medical and Pharmaceutical Institute in Shenzhen, China, praised Sharon Kleyne's recent research efforts in China. "Sharon Kleyne has been focusing on the Chinese environmental air pollution problem and is bringing her products into the Chinese market to help the Chinese people resolve their PM2.5 issues. Her research work benefits the skin and eye organs with appropriate ways to deliver good hydration."
These testimonials and hundreds like them point to Sharon Kleyne's signature scientific contribution in an often overlooked field—water—that is nevertheless of critical importance to life on earth. "Sharon Kleyne is to water what the Beatles are to pop music," said Robert McDowell, author and language expert. "She is respected by an international medical and scientific community, and she should be even more recognized and honored than she is already."
Sharon Kleyne is looking forward to new challenges and breakthroughs, which include a state-of-the-art research facility at Bio-Logic Aqua® Research Water Life Science®, and Water Life Science® hospitals that will focus solely on evaporation and supplementing earth's and the body's water vapor. Kleyne also called for universal education about water and the evaporation process.