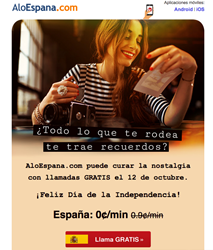 I really like this service and rates are good. I will continue to use this service. (liz Lamar, customer)
Atlanta, Georgia (PRWEB) October 10, 2016
AloEspana.com, the website dedicated to Spanish expats, offers free calls to landlines in Spain on October 12, 2016. The gift is the way AloEspana.com decided to support communication between Spanish people and their families and friends back home during the Independence Day celebration. The only condition to use the calling service on AloEspana.com and pay nothing for one's calls is to have a PIN. For new customers, a PIN is acquired automatically on a first purchase order of minimum $2. This balance not only brings someone a PIN, but can also be used for international calls, and it never expires. It only takes few seconds to open an account on AloEspana.com: https://aloespana.com/
If someone is interested in making free calls to landlines in Spain on Independence Day, he or she will need to have an account on AloEspana.com and a PIN, which is easy to get. A simple purchase of $2 Voice Credit brings one automatically.
The calling service on AloEspana.com makes available 3 different ways to call Spain (and generally abroad) at the lowest rates on the global market:

from KeepCalling app for iOS and Android devices
using access numbers from any phone, which requires no 3G, 4G, WiFi (no Internet connection at all)
from one's laptop or PC to any phone in the world, using Web Call app, which is available in customer's' online account and requires no download
AloEspana.com calling service is the most time-saving and economical alternative to calling cards. Mainly because it has been built thanks to feedback from expats. With the Voice Credit service, balance never expires and there are no hidden fees. The usual calling rates are 0.9 cents/minute to landlines and 1.9 cents/minute to mobiles in Spain. For example, a $10 Voice Credit balance on AloEspana.com offers over 1100 minutes to call landlines, or 526 minutes to call mobiles in Spain, or a mix of landlines and mobiles until one runs out of credit.
Spanish can make 100% discounted calls to landlines in Spain on October 12, but this is not the only promotion running on AloEspana.com. On every purchase on the website, people get Thank You points that can be later turned into Voice Credit for international calls. Another way to win calling credit is by inviting friends to try the service. For every friend referred, an AloEspana.com each customer gets $5 worth Thank You points.
Besides Voice Credit for calls, Spanish expats have access to an online tool that facilitates international top ups to mobiles in Spain in less than 1 minute. The name of the service is Mobile Recharge, and complements the calling service on the website. The processing fee is minimum, and the credit reaches the destination phone instantly. Most people use it to send airtime to families and friends in their origin countries and thus support local communication or even offer them international calls.
There is also a third service for the Spanish diaspora on AloEspana.com: Virtual Number. The service allows customers to receive calls from parents and friends living back home, as if they live two streets away from them. In fact, having such a number helps relatives back home to make international calls at their local rates.
A free account on AloEspana.com comes with a set of features that cost nothing:

No contract is needed between the parties.
Speed Dial and PINless dialing makes the international calls resemble local calls in terms of dialing experience.
Thank You points are offered on every purchase and can be later converted into Voice Credit for gift calls.
Lowest rates on the market for calls to both mobiles and landlines.
KeepCalling app costs nothing to install on any Android device, iPhone, iPad or iPod Touch.
24/7 human Customer Support for any explanation or question.
Online Help Center with Frequently Asked Questions.
Online 30 day call history and account transactions available non-stop.
Calling is also possible using access numbers that require no Internet connection.
International Mobile Recharges are instant and easy.
The online shopping takes few seconds and is 100% secure due to the "Verified and Certified" label.
PayPal is accepted besides all major credit and debit cards.
Payment is accepted in any currency.
Anyone can earn credit while recommending the service to other fellow expats.
AloEspana.com is a website dedicated to the Spanish diaspora worldwide. The website is a brand of KeepCalling, a global telecommunications company registered in 2002 in the USA. Presently, KeepCalling provides its services to hundreds of thousands of consumers and businesses, with a focus on customer satisfaction. KeepCalling has been listed by Inc 5000 as one of the fastest growing companies in the USA for 5 consecutive years. In 2015 the company registered a revenue increase of over 200% from 2011 to 2014.