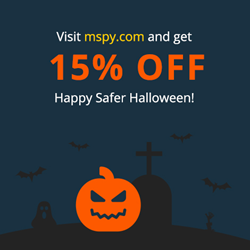 (PRWEB) October 27, 2016
mSpy application offers a 15% off discount on Halloween 2016 for all packages and introduces an upgraded GEO-fencing solution.
mSpy upgrades its GPS monitoring and GEO-fencing features for Halloween 2016.
At a certain point it's no longer cool to go out trick-or-treating with parents. But how do you safeguard kids if they are out on their own? Some places are really safe; others, like busy roads or remote areas with poor lighting, are not. mSpy offers a solution for parents who want to take care of their kids, but are afraid of being overprotective. mSpy is a global leader in parental control monitoring, dedicated to satisfying parenting needs for security, safety and convenience. The mSpy app offers a range of features including monitoring of all popular messengers, call logs, browser history monitoring, etc. mSpy GPS Location monitoring and Geo-fencing are the most important features for Halloween.
mSpy allows parents to monitor the location of their kids and instantly see their current whereabouts on a detailed map. mSpy GPS tracking also offers kids' route history and makes it possible to find kids' locations even when regular GPS is unavailable.
mSpy Geo-fencing means setting a virtual barrier so that when a kid's device enters or leaves the defined boundaries, parents receive a notification. mSpy users can set an unlimited amount of allowed and forbidden zones, and can see when and how often each zone is visited.
mSpy also announces mSpy Geo-fencing zone setting with mSpy Lite application soon.
mSpy 15% discount for all mSpy packages is available between October 25-th and November 1-st. Hurry up and do not lose your chance for a safer Halloween.
About mSpy
mSpy specializes in customized and user-friendly mobile & computer monitoring solutions, by utilizing the latest innovations in monitoring technologies. mSpy's goal is to deliver the fastest and most secure solutions that suit most demanding parental needs and bring guaranteed results at an affordable price.