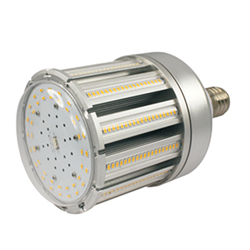 7 LED Post Top Retrofits that are DLC Qualified and can replace up to 400W Metal Halide
Portsmouth, RI (PRWEB) October 10, 2016
MyLEDLightingGuide is proud to announce its new family of LED Post Top Retrofit Lamps that are DLC Qualified and eligible for utility rebates.
"We now offer 7 models that are DLC Qualified" says Dwayne Kula, president of MyLEDLightingGuide.com. "Our models range from 27 watts to 120 watts, producing from 3,240 lumens to 14,400 lumens that is also UL Listed and backed with a 5 year warranty."
These LED Lamps are so simple to use and install.It's as simple and easy as removing the fixtures bulb and ballast and screwing in these lamps. Reducing cost of maintenance goes hand in hand with reducing cost of operation with these Post Top retrofits. They are built and designed to last a very long time, even in fully enclosed fixtures.
Guiding consumers towards more energy efficient high quality products is the main goal at MyLEDLightingGuide, along with pre and post sales support. It is achieved by providing the consumer a superior product when it comes to LED lighting solutions. With the new DLC Qualified Post Top retrofits, we are able to save more energy and create quicker pay backs for the customer.
About Us
It is the primary goal at MyLEDLightingGuide.com to help the commercial customers save energy and money by using safe, efficient LED lighting for their facilities. Our goals is to educate the customer with real information about LED Lighting and show them how to convert from their older style lights over to LED. For more product information, check out our LED Post Top Retrofit Kits at: http://www.myledlightingguide.com/led-post-top-retrofit.