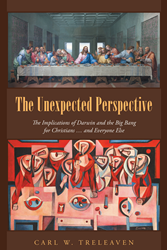 I wanted to take seemingly preposterous ideas and show how they could be real.
Tampa (PRWEB) October 10, 2016
For years, Christians and scientists have been at odds over theories like the Big Bang and those from Darwin, but do they actually have to be on opposite sides of the line?
In "The Unexpected Perspective," author Carl W. Treleaven builds the case that not only is modern science compatible with conventional Christian doctrine, it even provides a solid way to explain several of Christianity's most fundamental doctrines. He provides historical background, Biblical references, scientific research and concrete examples in order to build the case that Christians ought to love Charles Darwin and the Big Bang Theory more than any other group, even committed atheists.
"I wanted to take seemingly preposterous ideas and show how they could be real," Treleaven said. "This book shows how the unexpected embrace of Darwin by Christians could be highly beneficial to them as a means of addressing some issues of importance."
Treleaven is well versed in the Scripture and has spent much time studying the theories surrounding the beginnings of Earth and is confident in this unusual perspective.
"As a believer in Christ, I want people on both ends of the debate to reconsider their preconceptions," Treleaven said. "Science isn't evil and religion isn't constrictive if you look at them together, as ideas that support each other."
"The Unexpected Perspective"
By Carl W. Treleaven
ISBN: 978-1-5127-3414-0
Available in softcover, hardcover, e-book
Available on Amazon, Barnes & Noble and WestBow Press
About the author
Carl Treleaven is a business executive as well as a church elder. He has held leadership positions with numerous charities, most recently the National Christian Foundation Tampa Bay, the Rotary Foundation, Stop Cleft International and Meet the Need Ministries. He holds a B.A. from Rice University and a MBA from Dartmouth College. He is also a Distinguished Toastmaster.
# # #
**For Immediate Release**
For review copies or interview requests, contact:
Elizabeth Coomer
317.602.7137
ecoomer(at)bohlsengroup(dot)com