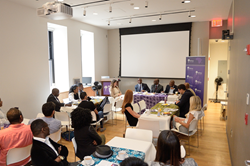 I think today's students are an essential part of Africa's future. These are the next generation of leaders that will launch the enterprises that provide the solutions to Africa's ongoing development
New York, NY (PRWEB) October 10, 2016
ABO Capital, a leading international investment firm headquartered in Angola, announced today that its CEO Zandre Campos spoke with a group of students and professors at New York University (NYU) Africa House breakfast meeting on September 20th.
The event which was hosted by Africa House Director Professor Yaw Nyarko, provided an opportunity for students to closely interact with Mr. Campos and get real first-hand insight on the investment opportunities that currently exist in Africa.
"I think today's students are an essential part of Africa's future. These are the next generation of leaders that will launch the enterprises that provide the solutions to Africa's ongoing development. It was an honor to speak with this group of talented and inspired young adults and see our future looking bright," added Mr. Campos.
NYU Africa House is an interdisciplinary institute devoted to the study of contemporary Africa, focusing on economic, political, and social issues on the continent and programs in the Arts. Part of Africa House's core mission is to advance the understanding of the links between Africa and the rest of the world, through the social, historical, economic and other lenses. NYU Africa House also has relationships with African immigrant communities in New York City. NYU has a large number of professors and students doing research in the areas of Economic Development, Economic Growth and Macroeconomics, microfinance, analysis of the effectiveness of foreign aid, politics and political economy, law and legal institutions. Africa House regularly convenes high level talks and seminars, and has in the past featured African heads of state. They also host policy luncheons, and research discussion presentations on focused topics. Their programs take place in New York City and in various capitals in Africa.
About ABO Capital
ABO Capital, formerly Angola Capital Investments, is an international investment firm that invests in companies in the healthcare, technology, energy, transportation, hospitality and real estate sectors throughout Africa. The mission of ABO Capital is to create global value for developing countries in Africa, while contributing to their economic development. For more information visit http://abocapital.net/
About Zandre Campos
Zandre de Campos Finda is one of the great, innovative business leaders and global entrepreneurs emerging out of Africa. Currently, he is chairman and CEO of ABO Capital, an international investment firm headquartered in Angola with holdings throughout Africa and Europe. Prior to founding ABO Capital, Mr. Campos was CEO of Nazaki Oil & Gaz S.A. He has held the positions of CEO of the mobile phone company Movicel Telecommunications and an executive in the office of the president of SONAIR, S.A., a subsidiary of Sonangol, Angola's state-owned oil company that oversees oil and gas production. He began his career as a legal advisor with Sonangol Holdings.
Mr. Campos also sits on the board of Sphera Bluoshen S.A., a subsidiary of Oshen Group and part of Sphera Global Healthcare. Sphera is committed to bringing high-quality healthcare services to nations around the globe with current activities in Angola, Morocco, and Rwanda. Sphera is dedicated to healthcare equality and accessibility. He is also a board member in Bluoshen S.A. and Boost - Communication & Strategy, S.A. and other organizations across the globe. Mr. Campos graduated from Lusiada University, Lisbon, with a degree in Law.
Mr. Campos has dedicated his career to helping advance Angola and other developing nations. His work makes him one of the most socially forward and conscientious business leaders of our time. Through his entrepreneurial spirit and diverse business portfolio that is ever-expanding, Mr. Campos is creating thousands of new job opportunities and building stronger communities.