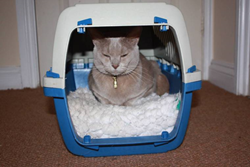 Cats are trainable
London, UK (PRWEB UK) 11 October 2016
Katzenworld and International Cat Care recently teamed up to publish an excerpt of the book The Trainable Cat on how to make a cat like a cat carrier.
Introduction
Many cats disappear at the sight of their cat carrier and even if their owner is able to get them into it, their cat often makes it quite clear it is not finding the experience pleasant. Difficulties getting cats into their carriers can result in owner reluctance to visit the vets which can consequently lead to reduced preventative healthcare, delayed diagnosis of disease, and ultimately reduced quality of life. In addition, if an owner is physically forcing their cat into its carrier, there is the potential for the cat to start to view the owner negatively with a resultant breakdown in the cat-owner bond. Having a cat comfortable with travel in its cat carrier will make trips to the vets, and other locations such as boarding catteries much easier, and the cat will not arrive already anxious or fearful from the journey. The best way to get around these problems is to teach a cat to enter its carrier voluntarily. This is done by associating the carrier with positive experiences.
Where to start
Before starting to teach a cat that going into the carrier is a positive experience, there are a number of things that can be done to ensure the cat views the carrier as positive as possible. If a cat already has a very negative association with the cat carrier, it is worth taking some time to think why this might be.
For the full guide please visit the online magazine Katzenworld
This insight guide is part of the latest book published by Dr Sarah Ellis & John Bradshaw, The Trainable Cat (A New York Times Besteller) which is available through most book shops and online bookshops such as Amazon
About Katzenworld:
Katzenworld is an online cat magazine working on providing cat owners and cat lovers with their number one source for:
Insight on cat care

Top cat events
Cat Cafes
Cat products
About International Cat Care:
International Cat Care works to create a world in which 'all cats, owned and unowned, are treated with care, compassion and understanding' International Cat Care is a charity with the vision of a world where all cats, owned and unowned, are treated with care, compassion, and understanding. We work closely with the veterinary profession through our veterinary division, the International Society of Feline Medicine. All our work is reliant on donations and legacies.
Founded in 1958, we are a respected authority on feline health and best practice, working with owners, vets and other professionals around the world.
Registered Charity – 1117342