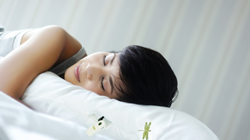 While most sleep technology products on the market today just measure your sleep, the Dreampad can actually help you fall and stay asleep.
Denver, Colo. (PRWEB) October 11, 2016
Released four years ago as a clinical pediatric product to help children with high levels of anxiety become more relaxed and sleep better, the Dreampad has been completely redesigned for the general sleep market and is now available on the crowdfunding website Kickstarter.
"We created the Dreampad as a therapeutic tool to calm children with high levels of anxiety, such as those with trauma and autism," said Randall Redfield, creator of the Dreampad and Co-founder & CEO of Integrated Listening Systems.
"Their parents began emailing us saying that their children were sleeping better, and therefore behaving better, and some of them were even trying out the Dreampad after their kids fell asleep. Their parents began singing its praises and were actually the ones who suggested that we create an adult version."
Redfield adds that his company has been redesigning, testing and refining the new line of adult-size Dreampads for the last three years and his team "is proud of the new lineup."
The Dreampad is a therapeutic pillow that has been proven to help people reduce stress and sleep better by using a patented Intrasound Technology™ that delivers music through gentle vibration. Dreampad's effectiveness is supported by research which suggests that its vibrational music activates the nervous system's relaxation response – resulting in an immediate calming effect in most users.
Described by sleep experts as "the most elegant solution to the sleep problem," the comfortable Dreampad comes in four sizes and is controlled by an App which provides the music for the Dreampad. As music plays, the sound is converted into gentle vibrations that's travels directly to the inner ear – signaling a person's nervous system to relax and calming the mind and body.
"It's very different from hearing music played through speakers or headphones because it doesn't travel through the airwaves, but moves internally through your body," Redfield said.
Since only the user can hear the music, the Dreampad will not disturb other people in the same room when it's in use.
"Most of us live each day with an undercurrent of stress in our lives, whether it's at work or home, and when we can't turn off that stress our sleep suffers," Redfield added. "While most sleep technology products on the market today just measure your sleep, the Dreampad can actually help you fall and stay asleep."
To order the Dreampad, available at special, discounted prices during the campaign, visit the Dreampad Campaign Page on Kickstarter.
About Integrated Listening Systems (ILS)
Founded in Denver, Colorado in 2008, Integrated Listening Systems' mission is to develop products to help individuals of all ages elevate their quality of life by improving brain function and emotional resilience through music, movement, technology and education. For more information, visit http://www.integratedlistening.com.