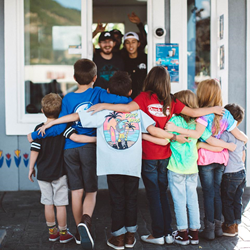 Dutch Bros celebrated National Coffee Day the best way they know how, by holding a company-wide giveback day that benefitted local youth.
GRANTS PASS, Ore. (PRWEB) October 10, 2016
Dutch Bros decided to change the way it celebrated National Coffee Day and donated funds from the day to children. With the help the community, Dutch Bros is able to donate $401,212 to local nonprofits serving youth.
"I'm a kid at heart and love supporting the great opportunities for children to play, grow and receive care through Buck for Kids Day," said Dutch Bros, Co-founder Travis Boersma. "We are grateful for the work these organizations do every day to support our children and communities."
On Thursday, Sept. 29, Dutch Bros held its annual Buck for Kids Day. This is a day where $1 from every drink sold, company-wide, is donated to local organizations that strive to positively impact children in our communities.
Buck for Kids Day is an annual event, which typically fell on the first Friday of every December. For 2016, Dutch Bros' wanted to take the opportunity to use National Coffee Day to not only celebrate their customers, but also to support local organizations that continually work to better the lives of youth through mentorship, support and positivity.
"It was so fun to use National Coffee Day to thank our customers for being so amazing," continued Boersma. "More importantly it is inspiring how much our customers will rally to help support our communities."
Click here to see a complete list of all donation totals local from this years Buck for Kids day.
###
About Dutch Bros Coffee
Dutch Bros Coffee is the country's largest privately held, drive-thru coffee company, with over 270 locations and over 7,000 employees in seven states.
Dutch Bros serves specialty coffee, smoothies, freezes, teas and a private-label, Dutch Bros Blue Rebel energy drink.
The rich, proprietary coffee blend is handcrafted from start to finish. Every ingredient is measured, every process timed, and every cup perfected.
With a mission of, "Making a Difference, One Cup at a Time," Dutch Bros donates over $2 million annually to nonprofit organizations and local causes selected by local owner-operators.
Dutch Bros Coffee is headquartered in Grants Pass, Ore., where it was founded in 1992 by Dane and Travis Boersma, brothers of Dutch descent.
To learn more about Dutch Bros, visit http://www.dutchbros.com, like Dutch Bros Coffee on Facebook or follow @DutchBros on Twitter.
Media Contact Only:
Jen Wheatley, pr(at)dutchbros(dot)com, 541.226.7787