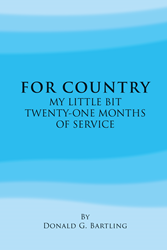 (PRWEB) October 10, 2016
Donald Bartling's book "For Country" contains his personal experiences of serving in the Korean War as he examines the past and connects it with current events.
Elements in Bartling's story include his transition from civilian to soldier, the duties he had to carry out during the war, and the men he served with as they worked as a team toward common goals.
"In particular, I address the value of the chaplaincy during my experience in the war because being exposed to faith-based resources provides a balance for soldiers in need of religious guidance," Bartling said when asked about the current trend of reducing presence of religion in the US military.
With his experiences as a veteran, Bartling feels that many of the lessons he learned are still applicable in today's world.
"I feel it is important to take North Korea's threats very seriously as we continue to see the strife continuing among North and South Korea," Bartling said. "We must not doubt the country's capabilities."
"For Country" is a useful book for readers to gain a better understanding of what it means to be in the military, including the sacrifices soldiers have made in the past and present in order to defend their nation.
"For Country"
By Donald Bartling
ISBN: 978-1-50351-637-3 (hardcover); 978-1-50351-638-0 (softcover);
978-1-50351-639-7 (eBook)
Available on Amazon, Barnes & Noble, and Xlibris Press
About the author
Donald Bartling was a farmer at the time he was inducted into the U.S. Army. After being discharged, Bartling served in the Government Natural Resources District, as well as on boards of farm-related businesses. Bartling is also active in Church Administrations. To learn more, please visit http://www.donaldbartlingbook.com.
###
Review Copies & Interview Requests:
LAVIDGE – Phoenix
Bryan Beach
480-998-2600 x 510
bbeach(at)lavidge(dot)com
General Inquiries:
LAVIDGE – Phoenix
Danielle Grobmeier
480-998-2600 x 614
dgrobmeier(at)lavidge(dot)com