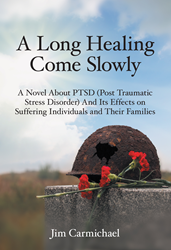 Cumming, Ga. (PRWEB) October 10, 2016
Post-traumatic stress disorder continues to generate discussions as more veterans are returning home. Dr. Jim Carmichael's new book "A Long Healing Come Slowly" shows the impacts of PTSD on a whole family.
Using his own experiences as a Vietnam War veteran diagnosed with PTSD, Carmichael has created a novel centering on the Lloyd family. The patriarch, a World War II veteran, had put his combat experiences behind him until he learned that his son's best friend was killed in action in Vietnam.
Suffering from PTSD, the old wounds of the husband and father begin to reopen, resulting in increasing shock and distress for the entire family.
"Soldiers, police officers, firefighters, and rescue personnel are not the only ones who struggle with PTSD," said Carmichael. "Their families have to face it together by working to understand the effects that war and other types of trauma have on a person."
Including the teachings of Evangelical and Biblical Christianity, Carmichael presents a novel of hope in the midst of great suffering.
"A Long Healing Come Slowly"
By Jim Carmichael
ISBN: 978-1-48970-796-3 (hardcover); 978-1-48970-797-0 (softcover);
978-1-48970-795-6 (eBook)
Available on Amazon, Barnes & Noble, and LifeRich Publishing
About the author
Jim Carmichael, a Marine Corps veteran, served a 13-month combat tour in South Vietnam. He has pastored several churches and has taught Reformed Biblical Theology in Poland, Romania, Ukraine, and Haiti. Currently, Carmichael is the chaplain for the Advisory Council at Georgia National Cemetery in Canton, Georgia. He is also Chairman of Friends of Veterans. To learn more about Dr. Carmichael's work, visit http://www.5goldencables.com.
###
Review Copies & Interview Requests:
LAVIDGE – Phoenix
Bryan Beach
480-998-2600 x 510
bbeach(at)lavidge(dot)com
General Inquiries:
LAVIDGE – Phoenix
Kalin Batts
480-998-2600 x 524
kbatts(at)lavidge(dot)com