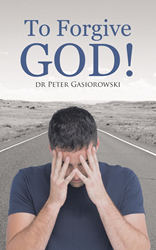 KRAKOW, PL (PRWEB) October 10, 2016
On Dec. 5, 2003, Dr. Peter Gasiorowski experienced the most tragic of events. His wife was killed in an automobile accident from which he survived to be the sole parent of two young children.
In his new book, "To Forgive God!" Gasiorowski elaborates on his three-year struggle to accept forgiveness from God and the steps he took toward personal recovery.
"I discovered that in Christian faith, we are to accept forgiveness," Gasiorowski said. "Very often we do not know what forgiveness means, but through my own journey of asking 'Why?' I have found an inner peace."
In the years following his wife's death, the Polish minister tried to run away from his pain as opposed to confronting it head-on. Comparing himself to the fictional character, Forrest Gump, the father of two became a frequent marathon runner to escape his problems.
Only when he came to accept God's forgiveness without demanding vengeance did Gasiorowski's life regain normalcy.
To Forgive God!
By Dr. Peter Gasiorowski
ISBN: 978-1-5127-4059-2 (paperback), 978-1-5127-4058-5 (e-book)
Available at the WestBowPress Online Bookstore and Amazon
About the author
Dr. Peter Gasiorowski serves as pastor of Polish Wesleyan Church, founded in 2007 in Krakow. He is involved in leadership development and has masters degrees in Protestant theology and Catholic theology. An avid sailor and triathlete, he is the father of two adult children.
###
Review Copies & Interview Requests:
LAVIDGE – Phoenix
Maggie Driver
480-998-2600 x 584
mdriver(at)lavidge(dot)com
General Inquiries:
LAVIDGE – Phoenix
Courtney Coombes
480-998-2600 x 612
ccoombes(at)lavidge(dot)com