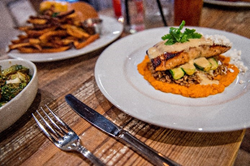 Alpharetta's culinary scene is still on the rise and growing by leaps and bounds.
Alpharetta, Georgia (PRWEB) October 09, 2016
With over 175 dining options, locally owned and chef-driven restaurants, festive foodie events, specialty craft beer and wine stores and authentic culinary experiences, epicureans around the country are quickly putting Alpharetta at the top of their list of places to visit. Visitors are very interested in delighting their palates with tasting experiences found throughout Alpharetta's culinary landscape.
"Alpharetta's culinary scene is still on the rise and growing by leaps and bounds," said Janet Rodgers, president and CEO of the Alpharetta Convention and Visitors Bureau. "The city is known as a shopping and dining destination because of the eclectic retail stores and the diversity of food. Visitors can delight their taste buds with popular eateries that are exclusively found in Alpharetta."
To highlight the culinary scene in Alpharetta, the Alpharetta Convention and Visitors Bureau has mapped out four restaurants, only found in Alpharetta, that will please any foodie's palate.
Executive Chef Michael Perez, Colletta Italian Food & Wine
Chef Michael Perez relocated to Atlanta, Georgia in February 2015 to take the helm of Indigo Road's latest Italian endeavor, Colletta, as executive chef. Perez says his favorite part about cooking is learning new things while teaching his staff and fellow chefs. When not in the kitchen, Perez appreciates a full day of snowboarding or fishing, exploring new restaurants with friends, and fulfilling his love for travel and exploring new cultures.
Owner and Executive Chef Leif Johnson, Bite Bistro & Bar
As a self-proclaimed, "self-taught" chef, Leif truly learned to cook from his grandmother crediting her with cultivating his passion for cooking. In 2007, Leif launched Bite Catering in Atlanta, spending three years growing the catering company until opening the original Bite Creative Cuisine & Catering restaurant in 2011. Due to popularity after just a year and a half in business, Leif expanded and doubled the restaurant space and reopened as Bite Bistro & Bar in 2013. Bite offers an eclectic menu that Leif calls "New American" that gives him the liberty to pull flavors from different profiles including Asian, Latin and East Coast dishes that he is able to weave together to create unique yet familiar cuisine.
Executive Chef Mike Fuller, Ray's at Killer Creek
Chef Fuller's love for food developed at an early age growing up in Hilton Head, South Carolina, where he apprenticed with a classically trained and lively chef through high school. After graduation, he moved to Charleston, SC to study culinary arts at Johnson & Wales University where he developed an appreciation for sourcing local and seasonal ingredients and has carried this farm-to-table influence throughout his career.
Executive Chef Christy Stone, South Main Kitchen
Chef Christy Stone began her culinary career as a baker in Sandy Springs, GA. Her fascination in showcasing her artistic and cooking abilities propelled her to further pursue a career in the food and beverage industry, leading to her career as a chef in the restaurant business. Having a love for health and fitness, Stone enjoys preparing healthy foods without skimping on flavor. She uses her creativity and skills in the kitchen to invent various entrées that she calls a healthy take on modern American comfort food.
Get up close and personal with four of Alpharetta's renowned chefs. Getaway Package for one lucky winner includes:

Two (2) one bedroom suites at the Hampton Inn & Suites Alpharetta for two nights, checking in on Friday, January 20, 2017, checking out on Sunday, January 22, 2017. Hotel stay includes a hot breakfast each morning at the hotel.
VIP Chef's Table Experience for four adults at the following restaurants:
Friday dinner at Colletta Italian Food & Wine
Saturday lunch at Bite Bistro & Bar
Saturday dinner at Ray's at Killer Creek
Sunday brunch at South Main Kitchen
Enter and see the official rules at http://www.awesomealpharetta.com. Enter through October 31, 2016.