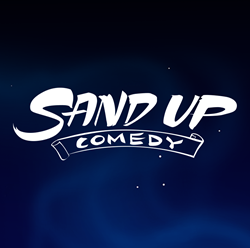 Los Angeles, CA (PRWEB) October 09, 2016
'Sand Up Comedy' has announced the official tour dates and talent line-up for its five-city US tour. The ultimate comedy experience featuring an exciting line-up of five notable comedians from Saudi Arabia, 'Sand Up Comedy' is a US-based cultural exchange and tour concept that fuses comedy with society.
Kicking off November 1 in Los Angeles, 'Sand Up Comedy' will launch with a one-week mentorship seminar led by renowned actor and US comedian Ahmed Ahmed followed by ten live stand-up performances. The tour will visit Los Angeles, San Francisco, Chicago, Miami and New York. Ticket and venue information is available at SandUpComedy.com. The full tour location and dates below.
Sand Up Comedy Tour:
Sun Nov 6th & Mon Nov 7th, 2016 – Flappers Comedy Club w/Special Guest Tom Green – Los Angeles, CA
Wed Nov 9th & Thu Nov 10th, 2016 – San Francisco, CA
Sun Nov 13th & Mon Nov 14th, 2016 – Comedy Bar – Chicago, IL
Thu Nov 17th & Fri Nov 18th, 2016 – The Comedy Inn – Miami, FL
Sun Nov 20th & Mon Nov 21st, 2016 – Carolines on Broadway – New York, NY
'Sand Up Comedy' is the first comedy tour of its kind aimed at promoting cultural diversity between Saudi Arabia and the United States. The initiative offers a masterful approach on furthering the many discussions on cultural and societal differences. The comedians all come from diverse backgrounds and have different perspectives to offer on their everyday encounters.
The talent line-up boasts incomparable Saudi comedians including Khalid Khalifa, Shakir Sharif, Thamer Alhazmi, Yaser Bakr, and comedienne Lama Alfard. After gaining notoriety in Saudi Arabia and some instances throughout the world, these comedic entertainers introduce a one-of-a-kind experience of hilarious stand-up skits and unstoppable laughs.
Media Relations
Please contact Keetria Garner-Chambers via email keetria(at)amworldgroup(at)com or phone: (310) 295-4150 for all media inquiries.
About Sand Up Comedy
Sand Up Comedy is an entertainingly hilarious comedy tour featuring five notable comedians from Saudi Arabia. The tour's lineup boasts the exceptional talents of Saudi comedians including Khalid Khalifa, Shakir Sharif, Thamer Alhazmi, Yaser Bakr, and comedienne Lama Alfard. Sand Up Comedy aims to bring about a cultural experience through its unique performance art platform. This new initiative aims to support local talents and enhance their professional experience and exposure throughout the world. For more information on Sand Up Comedy, please visit http://www.sandupcomedy.com
Official website: http://www.sandupcomedy.com