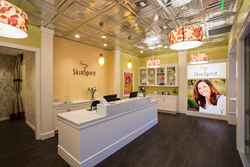 We understood there was a need in the city for the proven and cutting edge products and skin care services we provide at the level of customer service and satisfaction SkinSpirit is known for. -Lynn Heublein, CEO
San Francisco, CA (PRWEB) October 10, 2016
SkinSpirit Skincare Clinic & Spa, an expert provider of aesthetic skin and body care, is pleased to announce the December 2016 opening of its eighth location overall and fifth in California. The new space, located in San Francisco's Presidio Heights neighborhood at 3325 Sacramento Street, joins other Bay Area locations in Mill Valley, Palo Alto, Los Gatos, and Walnut Creek.
"We opened our first location in 2003 in Palo Alto and have expanded all around the city over the past 5 years," said Lynn Heublein, CEO and co-founder of SkinSpirit. "We found a growing number of our skin care clients live in the city and come to our locations in Palo Alto, Walnut Creek and Mill Valley. From this demand, we understood there was a need in the city for the proven and cutting edge products and skin care services we provide at the level of customer service and satisfaction SkinSpirit is known for."
CEO Lynn Heublein continued: "We liked the Presidio Heights location on Sacramento Street because we could offer a beautiful street level retail experience to best complement our services. We typically locate our skincare clinics close to where people live, shop, workout and run their daily errands. We felt a neighborhood location in the city was a better fit for our clients from a convenience perspective."
The inviting location in San Francisco features treatment rooms with a full menu of SkinSpirit services including Botox, various dermal fillers, and laser hair removal. Other offerings include dermaplaning, laser and light-based rejuvenation therapies, body contouring, Ultherapy, and Sculptra. To complement their services, SkinSpirit curates the best in skin care products to provide clients with proven home care regimens that get lasting results.
Since opening in 2003, SkinSpirit has built a strong reputation in the Bay Area as a premier destination for aesthetic skin and body care. The SkinSpirit team, led by Stanford-trained, board-certified plastic surgeon Dr. M Dean Vistnes, brings cutting-edge technology into a luxurious spa-like setting. In 2014, SkinSpirit completed a successful launch into Washington State, assuming ownership of Calidora Spa Clinics.
SkinSpirit locations are open six to seven days a week; hours vary by location. For more information or to make an appointment at any of the eight locations, call 855-383-7546 or visit http://www.skinspirit.com.
About SkinSpirit
Since 2003, SkinSpirit Skincare Clinic & Spa has built a reputation in the Bay Area as a premier destination for aesthetic skin and body care, with the goal of helping clients look their best at any age. With five Calif. locations in Palo Alto, Walnut Creek, Mill Valley, Los Gatos, and now San Francisco, the skincare clinic also expanded to Wash. in early 2014 with locations in Redmond, Bellevue and Seattle. This expansion continues to solidify SkinSpirit as one of Allergan's top sellers of Botox and fillers in the country, as well as a top provider of skin care products from SkinMedica, SkinCeuticals, and Jan Marini Skincare Research. The skincare clinic is the brainchild of CEO Lynn Heublein and Bay Area plastic surgeon Dr. M. Dean Vistnes, who sought to integrate luxurious spa services with medically-supervised skin care. http://www.skinspirit.com.