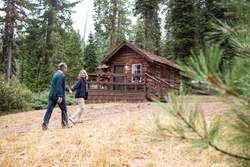 SEQUOIA & KINGS CANYON NATIONAL PARKS, Calif. (PRWEB) October 11, 2016
Splashes of autumn color dot the green forests of Sequoia and Kings Canyon in fall. The air cools, crowds retreat and bears venture out. These inspiring California National Parks are the perfect mid-week escape or weekend getaway for explorers seeking the best of the Golden State's great outdoors this fall.
Visitors are encouraged to put away their smartphones and commune with giants—trees that are thousands of years old and larger than any other living organism on the planet. The parks' giant sequoias must be seen to be believed—and even then, their sheer size makes them as hard to comprehend as the vast star-filled night skies.
Grant Grove is an excellent location to marvel at the mighty sequoias in Kings Canyon National Park. From Grant Grove, it's a 45-minute drive into one of the deepest canyons in America where, at Road's End, John Muir Rock calls out for a picnic lunch above the crystal-clear waters of the Kings River.
Lodging in Grant Grove is within walking distance of its namesake sequoia forest, home to the majestic General Grant Tree. This includes the rustic Grant Grove cabins and the stone-and-timber John Muir Lodge, both a roughly one-hour drive from Fresno. Special fall packages help make the travel decision even easier. Book the Autumn Weekend Getaway Package starting from $215 per night at John Muir Lodge. This offer includes a $50 credit for use at any of the Grant Grove dining options and complimentary wine, cheese and crackers.
Guests at John Muir Lodge this fall might expect to encounter the outlaw and accused train robber, Chris Evans, while the Sequoia Parks Conservancy's living history program is in action on Wednesday nights. Pull up a chair next to the lodge's crackling fireplace and listen to stories of mystery, hardship and adventure from a time when the parks were young. And on October 22, carve out a jack o'lantern while a storyteller carves up tales o'the season.
Sequoia National Park is home to the tallest peak in the lower 48 states, Mt. Whitney, and the largest of all of the giant sequoias, the General Sherman Tree. Visitors entering the park from Three Rivers ascend from 1,500 to 7,200-feet in elevation and witness dramatic shifts in scenery including roadside fall color, an amazing diversity of plants and animals and breathtaking mountain and canyon vistas. The park is home to more than 300 species of wildlife with frequent marmot, deer and bear sightings.
Fall brings out less common sightings as well. Between October 21-29, visitors can join experienced cave naturalists on Fridays and Saturdays at Crystal Cave for a spooky Halloween tour, and listen carefully for the spirits of native peoples and Civilian Conservation Corps workers who have traveled the Cave's passageways over the past century. On select Thursday and Saturday evenings, Wuksachi Lodge, Sequoia's stone-and-cedar signature hotel, also hosts Ghosts of the Giants—tall tales of life under even taller trees.
Sequoia National Park's peacefulness and grandeur is difficult to imagine only three and a half hours' drive from Los Angeles—and truly needs to be experienced to comprehend. For an autumn weekend getaway, the Wuksachi Lodge Package will get you on the path to understanding. It starts from $279 per night and includes lodging, breakfast for two, box lunches for two, a $60 dining credit for dinner in The Peaks Restaurant and a complimentary wine, cheese and cracker amenity.
For fall foliage followers, the leaves are calling and both parks are among California's best destinations for autumn color. A Fall Foliage Package includes overnight accommodations, box lunches for two, a Sequoia logo throw blanket, a field guide card, and a sequoia cone copper-dipped ornament as a souvenir at either the Wuksachi Lodge with rates starting from $199 or John Muir Lodge starting from $209 through mid-December.
To learn more about fall lodging and activities in Sequoia and Kings Canyon National Parks, please visit [VisitSequoiaKingsCanyon.com.
About Delaware North's parks and resorts business
Delaware North Parks and Resorts is a global leader in the hospitality industry, operating lodging, food and beverage and retail services, recreational activities, and educational programming at destinations throughout North America and Australia. Delaware North operates in many of the United States' iconic national and state parks, including Grand Canyon National Park, Yellowstone National Park and Niagara Falls State Park, as well as at cultural attractions such as Kennedy Space Center Visitors Complex. Its portfolio also includes The AAA Four-Diamond Tenaya Lodge at Yosemite and several luxury resorts in Australia, including Lizard Island, a highly acclaimed resort on the Great Barrier Reef. To learn more about Delaware North's hospitality management expertise, visit http://www.delawarenorth.com/parks-and-resorts-home.
About Delaware North
Delaware North is one of the largest privately-held hospitality and food service companies in the world. Founded in 1915 and owned by the Jacobs family for 100 years, Delaware North has global operations at high-profile places such as sports and entertainment venues, national and state parks, destination resorts and restaurants, airports, and regional casinos. Our 60,000 employee associates are dedicated to creating special experiences one guest at a time in serving more than 500 million guests annually. Delaware North has annual revenue of about $3 billion in the sports, travel hospitality, restaurants and catering, parks, resorts, gaming, and specialty retail industries. Learn more about Delaware North at http://www.delawarenorth.com.
About Sequoia & Kings Canyon National Parks
This press release is issued by Delaware North. For additional information on Sequoia & Kings Canyon National Parks, please visit NPS.gov/SeKi or contact Zach Behrens; Acting Public Affairs Specialist at zach_behrens(at)partner(dot)nps.gov or 559-565-3131.