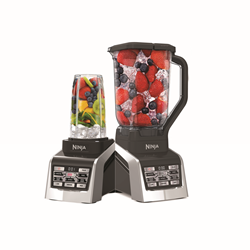 Newton, Mass (PRWEB) October 10, 2016
Ninja, an innovative leader in the housewares industry, introduces its newest blender, the Nutri Ninja Ninja BlendMAX DUO. Ready to conquer with Total Crushing® Blades and a Pro Extractor Blades® Assembly, this is Ninja's largest, fastest, and most powerful blender.**
The 1600-watt Nutri Ninja Ninja BlendMAX DUO features two vessels that interchange on a single base, to make every creation smooth and sippable. The blender enables users to switch easily between Nutrient & Vitamin Extraction* and Total Crushing Technology, bringing flexibility to your countertop.
Ninja's fastest Total Crushing Blades offer the most ice-crushing power of any Ninja blender, turning ice into snow, and giving consumers perfectly blended drinks. The 88-ounce pitcher†, Ninja's largest, is perfect for entertaining, eliminating the need to make multiple batches of frozen and blended drinks.
Nutrient & Vitamin Extraction* uses Pro Extractor Blades Assembly to fully break down whole foods, ice, and seeds and unlock the full potential of fruits and vegetables.†† Ninja's 18 oz. or 24 oz. Nutri Ninja Cups whip up nutrient-packed drinks to bring on the go.
"This blender breaks new ground for Ninja," says Mark Rosenzweig, CEO of SharkNinja. "We know that our consumers are always looking to blend the smoothest, creamiest drinks, whether making a protein shake for one, or frozen drinks for many. With this new blender, there are no limits."
The Nutri Ninja Ninja BlendMAX DUO includes Ninja's advanced Auto-iQ™ Technology with One-Touch Intelligence with unique programs that deliver delicious smoothies, frozen drinks, purees, and nutrient-rich juices with zero guesswork. Each Auto-iQ program can switch between BOOST YES and NO with the Auto-iQ Boost™ option for the power to customize the texture of any recipe.
The Nutri Ninja Ninja BlendMAX DUO is available at retailers nationwide for $199.99 MSRP, and includes with either a 20-recipe Inspiration Guide or a 75-recipe Cookbook.
For more information about Ninja products, visit http://www.ninjakitchen.com. Follow Nutri Ninja on Facebook at facebook.com/nutrininjakitchen and on Twitter @NutriNinja.
*Extract a drink containing vitamins and nutrients from fruits and vegetables.
**Based on wattage, liquid capacity, and RPM, as compared to previous Total Crushing blenders.
†80 oz. max liquid capacity
††By blending whole fruits and vegetables, including portions that are usually discarded.
About SharkNinja
SharkNinja is an innovation leader in the housewares industry and creator of the familiar household brands Shark® and Ninja®. SharkNinja provides the latest in easy-to-use innovative technology with a growing line of products that consists of Shark® cleaning and Ninja kitchen appliances. Products are sold at major retailers and through distributors around the world. Ninja and Shark are registered trademarks of SharkNinja Operating LLC. For more information, visit sharkninja.com.
###