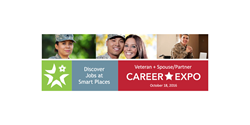 "This was great! Appreciate having the recruiting teams here. Well done!"
Largo, MD (PRWEB) October 11, 2016
The Mid-Atlantic Higher Education Recruitment Consortium (HERC), a regional collaboration of colleges and universities, teaching hospitals, research labs and government agencies is advancing its commitment to hiring transitioning military, veterans, and military spouses/partners by hosting its second annual event on the campus of University of Maryland University College's Academic Center at Largo.
The Career Expo & Job Fair, which will take place on Tuesday, October 18, 2016 from 11:00 a.m. – 2:00 p.m. at The Academic Center at Largo (MD), will be the second annual opportunity to offer an in-depth look at diverse career opportunities through the "Discover Jobs at Smart Places" regional initiative.
"With such diverse and prominent employers in the region, we have a tremendous opportunity and responsibility to help veterans and military spouses/partners explore an array of jobs in industries they might not necessarily consider," said Paula Alfone, Director of the Mid-Atlantic HERC.
Many of the consortium member institutions and government agencies will be actively recruiting for positions in a variety of career fields such as accounting, IT, public relations, office management, STEM, campus police, and facilities/maintenance, as well as faculty and research positions.
The Career Fair will include representatives from Johns Hopkins University, Howard University, Howard University Hospital, NIH, NSF, Chase Brexton Health Care, American University, Virginia Tech and CCBC to name a few. A webinar will be offered after the event to provide information on career paths within higher education, resume and interview preparation, and articulating transferable military skills in the civilian workplace.
The event is free, however, registration is encouraged by Monday, October 17, 2016. More details about the Career Expo & Job Fair can be found at http://herccareerexpo.eventbrite.com . All registrants are encouraged to bring a resume with them and be prepared for on-the-spot interviews.
Media wishing to attend should call Paula Alfone, Director, Mid-Atlantic HERC at 410.617.1650 prior to the event.
About the Mid-Atlantic HERC
The Mid-Atlantic HERC is a non-profit consortium of over 60 colleges, universities, teaching hospitals, research laboratories, and government agencies throughout Maryland, Virginia and Washington, D.C. dedicated to advancing the ability of our members to recruit and retain the most talented and diverse staff, administrators, health care providers, researchers and faculty, and to assist dual-career couples in their pursuit to find positions within a commutable distance of one another. The Mid-Atlantic HERC is a proud partner of the Military Spouse Employment Partnership (MSEP). For more information about the Mid-Atlantic HERC, please go to http://www.midatlanticherc.org