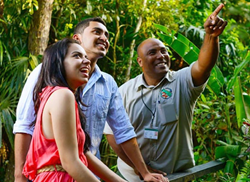 People are our greatest and most precious asset.
San Ignacio, Belize (PRWEB) October 12, 2016
A recent UNESCO educational initiative in Belize was a boon for the little country's students and teachers, and highlights the importance of education to the nation's growing tourism industry, according to The Lodge at Chaa Creek.
Chaa Creek co-founding owner Lucy Fleming, a former educator who also directs Chaa Creek's education and scholarship committees, said she was heartened to hear that this latest United Nations program, the UNESCO Global Micro-Science Project, was considered to be a resounding success, as education is a more important component of Belizean eco-tourism than many people would think.
"In a small developing country like Belize, everything is interrelated, and as the nation's largest employer, the tourism industry, has made major contributions to the quality of life for all Belizeans.
"One of the areas Chaa Creek has always been interested in is education. We recognise that while Belize has stunning scenery and offers a wealth of activities, people are our greatest and most precious asset. The tourism industry's contribution to the quality of life for Belizeans, especially in regards to income and career opportunities, are obvious, but equally important is the industry's lesser known contributions to education," she said.
Ms. Fleming said UNESCO's Global Micro-Science Project, which concluded October 7, 2016, was a prime example of NGOs working with government agencies to achieve positive outcomes with long term impacts for Belize.
A goal of the UN sponsored project was to give Belizean educators new approaches and skills to more effectively engage students in the sciences, with a education kit distributed to teachers from all across the country, according to Orlando Medina, Science Curriculum Officer at Ministry of Education.
"Basically, it is like a laboratory that's in the form of a small kit. They have experiments that they are conducting using these little kits and then they are getting their results," he said.
Ms. Fleming acknowledged that scientific educational resources were limited in Belize, and stressed the importance of science to the eco-tourism industry.
"People may not associate science with tourism, but our licenced naturalist guides, for instance, need a grounding in science to advance their knowledge in areas like botany, wildlife, bird identification, Maya archaeology, medicinal plants and agriculture and many other areas.
"Our guests consistently rate interactions with guides and staff as highpoints of their experience here, and knowledge is critical to that. Warm and friendly relations with visitors come naturally to Belizeans, but the ability to teach and answer questions requires more training than people may realise," she said, adding that this is why the tourism industry's investment in learning is so critical.
Ms. Fleming said an emphasis on education over the years continues to pay off.
"My husband, Mick, and I very early on recognised the opportunity for Chaa Creek to contribute to education in Belize, and having raised our own children here, we also had a personal stake in the educational system. We incorporated a strong educational component in our sustainable tourism and responsible travel program, and as Chaa Creek grew over the years, so did our educational outreach and staff development programs.
"And the good news is that they've been popular with Belizeans and overseas visitors alike," she added.
"For example, thousands of students and visitors have passed through the onsite Belize Natural History Centre, butterfly breeding farm, traditional Maya organic farm and medicinal plant trail and other educational attractions, while a free annual Eco kids educational summer camp that Chaa Creek sponsors graduates twenty-four budding young environmentalists every year," she said.
"Our chef mentoring program bolstered the skills of over twenty local cooks and raised the standard of dining and food presentation in Belize while giving overseas chefs and restaurateurs a chance to hone their farm-to-table skills with our Maya organic farm, and sponsoring other projects with overseas universities and organisations contributed to the knowledge of our naturalist guides in Maya archaeology and history, agriculture, wildlife and avian research, and in other areas," she said.
And educational programs extend beyond the borders of Chaa Creek's 400-acre private nature reserve, Ms. Fleming explained.
Under the "Chaa Creek Cares" initiative, which sees ten per cent of all room revenue put directly into environmental and social benefit programs, the eco-resort has been able to fund schools-based environmental education programs, develop teachers' resources, and contribute to a range of other projects, she said.
Ms. Fleming emphasised that Chaa Creek is not alone in sponsoring educational, environmental and community-based projects, and works with other tourism industry stakeholders such as the Belize Tourism Industry Association, of which she is a past president, to share information and ideas.
"One of the advantages of being one of Belize's most well-known eco-resorts and such a major employer is that we can act as a model, and show colleagues how education works hand-in-hand with eco-tourism," she said.
Ms. Fleming said that further details about Chaa Creek Cares and other education projects can be found on the Chaa Creek website, and that she welcomes input from educators and interested parties around the world.
"While we have sponsored research projects, our visitors and guests have contributed to the development of some of our own projects and initiatives, so I can say education is definitely a mutually beneficial, two-way street at Chaa Creek.
"As we like to say, it's a small world, and we're all in this together," Ms. Fleming said.
The Lodge at Chaa Creek is a multi award winning eco resort set within a 400-acre private nature reserve along the banks of the Macal River in Belize.