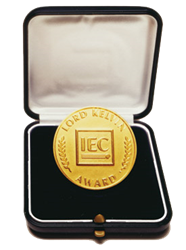 The IEC Lord Kelvin Award is the highest global distinction in electrotechnology. With this Award we recognize Uwe Kampet's valued leadership and tireless support of the IEC, global trade and a safer world.
Geneva, Switzerland/ Frankfurt, Germany (PRWEB UK) 11 October 2016
Electric and electronic devices and systems are no longer "made in one country", they are now "made in the world". Production processes are spread over many countries and continents. Only when countries and companies apply globally harmonized technical rules can they participate efficiently in these value chains. The IEC Lord Kelvin Award, the highest global prize in electrotechnology honours Mr Uwe Kampet's outstanding commitment to the mission of the IEC and long-term contribution to increasing safety as well as enabling the technical harmonization that underpins global trade.
This prestigious award takes its name from Lord Kelvin, the first IEC President, who was a distinguished scientist and prolific inventor. He contributed significantly to the advancement of modern physics and the practical applications of electrotechnology. Lord Kelvin, together with Charles Le Maistre, the first IEC General Secretary, can be considered the true fathers of standardization. They put in place the processes and methodologies that allow companies to spread new technologies broadly, and enable countries to build more sustainable infrastructure.
Today the Lord Kelvin Award honours their vision and drive to understand and improve the practical applications of the millions of electrical and electronic devices and systems that are part of our daily lives.
Uwe Kampet currently occupies the position of Senior Expert Technical Regulation and Standardization at BSH Home Appliances and has been active in the IEC for nearly 20 years.
Under his leadership as Chair of CISPR F from 2004 to 2015, he helped shape EMC International Standards covering the broad range of lighting products, household appliances, power tools, etc.
Such Standards are of increasing importance due to the proliferation of electric and electronic systems and devices all around us. All electrical or electronic equipment generates signals that can potentially interfere with the normal operation of other nearby pieces of equipment. They can degrade their performance, introduce errors, operational faults or even cause complete failure.
The work of CISPR is essential in protecting sensitive equipment in medical environments, manufacturing, on board planes, etc. and to contain the interference that is generated, for example, by large batteries of Electric Vehicles. More stringent regulatory requirements and the higher frequency ranges used by new technologies such as mobile phones and Bluetooth devices add additional challenges that are tackled by the work of the committee.
Kampet was also instrumental in establishing broad cooperation between his Committee and other important organizations, like ITU and the International Amateur Radio Union.
Thanks to his tireless leadership efforts, CISPR F Standards have been nationally and regionally implemented without modifications. CISPR F is a good example for how IEC work facilitates global trade with an ultimate goal of "one Standard accepted everywhere".
As the German CAB member, Uwe Kampet contributes extensively to the IEC Conformity Assessment Board. He initiated the conformity assessment systems approach and is now the convener for the CAB working group on developing new business for the IEC Conformity Assessment Systems.
In presenting Mr Kampet with the 34th Lord Kelvin Award at the IEC General Meeting in Frankfurt, Junji Nomura, IEC President, said, "The IEC Lord Kelvin Award is the highest global distinction in electrotechnology. With this Award we recognize Uwe Kampet's valued leadership and tireless support of the IEC, global trade and a safer world."
More about the Lord Kelvin Award
The Lord Kelvin Award is made in recognition of exceptional and dedicated contributions by individuals for a period of five years at least. Those honoured must still be active in the IEC and will have contributed significantly to international electrotechnical standardization and related activities through their leadership and technical expertise. Through their engagement they have helped to advance electrotechnology as a whole and their involvement has had a significant impact on industry or global trade. A list of recipients of the Lord Kelvin Award can be found here.