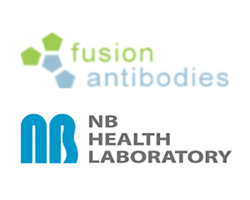 Belfast (PRWEB UK) 11 October 2016
Through the partnership, Fusion will apply its proprietary CDRTM Multiplex Humanization Platform integrated into NBHL MoGRAATM discovery engine which will provide high-quality humanized antibodies targeting GPCRs ready for further development to potential partners.
"This partnership will allow Fusion to provide clients with perfect antibody candidates and close collaborations. Clients will be able to get access to rapid discovery and development of new antibodies through NBHL MoGRAATM discovery engine. (MoGRAATM, which stands for "Modification of G-protein coupled Receptor Activation with monoclonal Antibody, is a new bio therapeutic concept for GPCR targeted drug discovery)", said Dr Paul Kerr, Managing Director, Fusion Antibodies.
"Developing of functional antibody targeting GPCRs is still challenging. Especially, the humanization is one of critical steps. Through the partnership, Fusion's CDRTM Multiplex Humanization Platform is involved in NBHL MoGRAATM discovery engine to accelerate the generation of therapeutic antibody targeting GPCRs. We believe that this alliance will bring about benefit to both of companies ", said Dr Kiyoshi Takayama, President, NBHL.
About NBHL and its discovery engine.
NB Health Laboratory is a biotechnology company dedicated to discovering, developing and commercializing innovative medicines to treat respiratory diseases, chronic inflammation and central nervous system disorders. NBHL has expertise in the generation of functional antibodies targeting G protein-coupled receptors (GPCRs) and is pioneering a new field in GPCR-targeting drug discovery to benefit human health.
NBHL has established a technology platform for the generation of functional mAbs targeting GPCRs to pioneer a new field in GPCR-targeted drug discovery, in collaboration with universities and other partners in Japan. NBHL has used the technology platform to discover promising mAbs targeting GPCRs for the treatment of respiratory diseases and chronic inflammation, which is being progressed towards clinical development.
For more information, please visit http://www.nbhl.co.jp/
About Fusion Antibodies and its humanization platform
Fusion Antibodies is a Contract Research Organisation (CRO) established in 2001 as a spin-out from Queen's University Belfast and located about 6 miles outside Belfast city centre. With 15+ years of experience in the medical research industry, including two of its own antibodies in clinical and pre-clinical trials.
Fusion Antibodies have developed a next generation in silico platform for rapid, reliable and robust antibody humanization. The primary function of our software is to perform the initial screen of 30,000+ human antibody sequences and display the top matches (based on homology). This tool allows the screening of large databases and is critical to selection of an appropriate human recipient antibody.
For more information, please visit https://www.fusionantibodies.com/
Contact:
Fusion Antibodies
Dr. Paul Kerr, Managing Director
+44(0) 2890 432800
paul.kerr(at)fusionantibodies(dot)com
NB Health Laboratory Co. Ltd.
Kiyoshi Takayama, President
+81(11)708 7156
info(at)nbhl.co(dot)jp