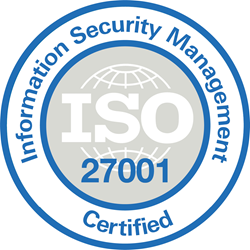 Adhering to the internationally recognized ISMS standard adds yet another layer of security for Capsa customers
Portland, OR (PRWEB) October 12, 2016
Capsa Solutions, a leading provider of mobile computing carts, pharmacy automation, and medication management systems to the healthcare industry, today announced it is now ISO 27001:2013 information security management certified. Capsa supplies healthcare technology and related support service that meets the highest standards for cyber security and HIPAA compliance.
Capsa is proud to be recognized as a leading company with this certification that serves the medication management and pharmacy automation sectors of healthcare. Capsa's ISO 27001:2013 certification specifically addresses these product lines:

Capsa prioritized its ISO 27001:2013 certification because information assets are some of the most valuable assets of a business (e.g., Protected Health Information (PHI), Intellectual Property, financial information, personnel data). In the digital age, these assets are vulnerable to external threats. Secure management of Capsa customers' information significantly boosts customer confidence and thwarts security breaches. ISO 27001 is the globally recognized International Standard for Information Security Management Systems (ISMS). It requires continual assessment, and allows for the improved ability to quickly prevent, or at a minimum, detect and isolate a security breach.
"Information security is extremely important for today's business and technology leaders," says Andrew Sherrill, Chief Executive Officer, Capsa Solutions. "Achieving the ISO 27001 certification demonstrates Capsa's ongoing commitment to protect customer data and supports our vision for securely managing data. Adhering to the internationally recognized ISMS standard adds yet another layer of security for Capsa customers and assures them of the resilience of our products and services."
Capsa was certified by the accredited Registrar UL DQS Inc., one of the top certification organizations globally. Subrata Guha, lead auditor at DQS, summed up Capsa's certification: "Capsa is committed to the security of its customers," he says, highlighting the effectiveness of Capsa's senior management leadership and commitment, effective management review meetings and risk assessment methods and results.
About Capsa Solutions: Representing the combined brands of MMI Medcarts, Artromick International, Kirby Lester, and now Rubbermaid Healthcare, Capsa Solutions is a worldwide leader in developing and delivering innovative products designed for healthcare to mobilize and manage clinical and medication control processes. With combined product lines that include medication carts, medical carts, computer carts, and pharmacy automation solutions, Capsa offers its markets over 50 years of experience and a unique ability to meet the demands of diverse healthcare environments. Headquartered in Portland, OR, Capsa Solutions has additional management, manufacturing, and distribution facilities in Columbus, OH, Huntersville, NC and Chicago, IL. To learn more, visit http://www.capsasolutions.com or call 800-437-6633.