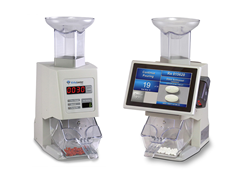 We focus on creating value through product development that addresses labor costs, inventory control, and dispensing accuracy
Lake Forest, IL (PRWEB) October 13, 2016
Kirby Lester, a division of Capsa Solutions, LLC, today announced an update to its best-selling tablet counter devices, KL1 and KL1Plus, for retail, hospital outpatient, and LTC pharmacies.
The KL1 and KL1Plus pharmacy automation devices will be displayed at the National Community Pharmacists Association (NCPA) 2016 Annual Convention in New Orleans, Oct. 16-18.
First introduced in 2011, Kirby Lester's tandem tabletop-sized devices have helped thousands of community pharmacies fill prescriptions safely, quickly and efficiently. The 2016 updates include features to meet the national need for increased prescription accuracy and scrutiny, record-keeping, and time-and-cost reduction for every prescription filled.
The updates include 15+ new software inclusions, and these notable additions:

Enhanced inventory and narcotics counting-and-reporting
Large touch-screen
Three levels of user tracking, with optional biometric scanner
Partial-fill management
Interoperability with a pharmacy's onsite robotic automation
Redesigned funnel and tray
Only pharmacy automation company to be ISO 27001:2013 certified for information security management
"At Kirby Lester, we continue to focus on creating value for pharmacists through product development that addresses labor costs, inventory control, and dispensing accuracy," says Garry Zage, R.Ph., President of Kirby Lester. "It is our design strategy to listen to pharmacists nationwide to truly understand the market's needs. This intelligence and pharmacist feedback contributes to the development of the enhancements to the KL1 and KL1Plus."
About Kirby Lester: Kirby Lester is a division of Capsa Solutions, LLC and a leading developer and provider of medication tablet/pill counters and robotic dispensing technology. Kirby Lester products significantly improve medication counting accuracy and reduce labor time associated with medication dispensing and prescription fulfillment. Kirby Lester products can be found in more than 40,000 retail, hospital, specialty, and mail order pharmacies in more than 40 countries. Kirby Lester is headquartered in Lake Forest, IL. To learn more, visit http://www.kirbylester.com or call 800-641-3961.
About Capsa Solutions: Representing the combined brands of MMI Medcarts, Artromick International, Kirby Lester, and now Rubbermaid Healthcare, Capsa Solutions is a worldwide leader in developing and delivering innovative products designed for healthcare to mobilize and manage clinical and medication control processes. With combined product lines that include medication carts, medical carts, computer carts, and pharmacy automation solutions, Capsa offers its markets over 50 years of experience and a unique ability to meet the demands of diverse healthcare environments. Headquartered in Portland, OR, Capsa Solutions has additional management, manufacturing, and distribution facilities in Columbus, OH, Huntersville, NC and Chicago, IL. To learn more, visit http://www.capsasolutions.com or call 800-437-6633.