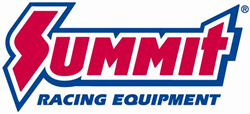 Tallmadge, OH (PRWEB) October 11, 2016
Summit Racing now carries Performance Steering Components Hydraulic Steering Systems. PSC steering systems provide precise steering control and reduce driver fatigue—huge plusses if an off-road vehicle has oversize tires, big axles, and lockers. Summit Racing carries several types of PSC steering systems:
Hydraulic Assist Steering Systems
These ram-style systems have a hydraulic cylinder that increases turning force by an average of 50 percent without increasing driver effort. Most systems come with a steering box with valving that provides OEM handling and road feel when running tires up to 42 inches (depending on application).
PSC Hydraulic Assist Steering Systems come with the ram cylinder, large capacity pump, hose, brackets, and fittings. PSC strongly recommends running a fluid cooler and filter to prevent damage to the pump.
Applications

1970-87 Chevy/GMC full-size pickup and SUV
1971-2016 Jeep CJ/Wrangler, 1990-2001 Cherokee
1980-96 Ford F-150 and Bronco, 1999-2016 F-250/350 Super Duty
1994-2010 Dodge/Ram 2500/3500
1979-85 Toyota pickup and 4Runner
Full Hydraulic Steering Systems
PSC full hydraulic steering systems are designed for dedicated off-road vehicles running tires up to 44 inches tall. Most kits come with a quick-ratio steering box, hydraulic ram cylinders, pump, steering stub collar, orbital control valve, brackets, and hose kits. Welding is required for most kits, and PSC again recommends using a fluid cooler and filter to protect the pump. Kits are available for 1997-2011 Wrangler, 1997-2001 Cherokee, and 1979-85 Toyota pickup and 4Runner. Universal style kits are also available, including kits for vehicles with Rockwell axles.
Pro Series Power Steering Pumps
Hand-built in the USA, PSC Pro Series pumps are designed for vehicles to provide fingertip steering control. The GM Type 2 (Saginaw TC) style pumps have a bushing bearing design that reduces horsepower loss and rotating mass, which lessens load resistance. Pro Series pumps are available with an integral or remote-mount reservoir, and most pumps come with a choice of pulley diameters. The pumps are ideal for circle track and road racing cars as well as off-roaders.
Summit Racing also carries replacement parts for PSC hydraulic steering systems plus fluid coolers, power steering fluid, universal-fit steering columns, and more.
Summit Racing Equipment
http://www.summitracing.com
1-800-230-3030