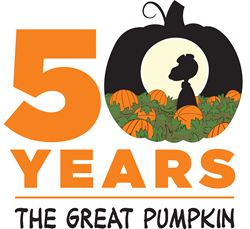 "An occasion as momentous as the 50th Anniversary deserves to be commemorated in a variety of ways that are as creative and clever as the show itself.
New York (PRWEB) October 11, 2016
In October of 1966, on small-screen sets across the country, audiences heard for the first time Linus Van Pelt telling the story of the Great Pumpkin rising from the pumpkin patch, and a forlorn Charlie Brown announcing after trick-or-treating, "I got a rock." And thus, a beloved Halloween tradition was born: the annual viewing of "It's the Great Pumpkin, Charlie Brown!" In this 50th anniversary year, Peanuts Worldwide is celebrating a half-century of Great Pumpkin joy with unique events that stretch from coast to coast, giving fans the chance to reach out and touch the Great Pumpkin.
"It's the Great Pumpkin, Charlie Brown! was the third Peanuts television special to hit the airwaves, and it has become one of the most highly anticipated viewing events of the year for most Peanuts fans," said Jill Schulz, daughter of Peanuts creator Charles M. Schulz. "Naturally, an occasion as momentous as the 50th Anniversary deserves to be commemorated in a variety of ways that are as creative and clever as the show itself, and we feel fans will be delighted by these opportunities that await them across the country."
Celebrate in AMAZEment
Peanuts Worldwide and farmers all across the United States and Canada are hosting a once-in-a-lifetime celebration: more than 90 unique corn mazes, custom-designed in collaboration with The MAiZE, Inc. to feature Peanuts themes. Collectively, the farms—which span North America in two countries and 39 states, from California to New York, Canada to Florida—will reach more than 3.5 million visitors during the Halloween season. A complete list of the farms can be found at http://www.peanuts.com/greatpumpkincornmaze.
Working with Utah-based The MAiZE, Inc. the world's largest cornfield maze consulting and design business, each farm has grown its own unique maze featuring Peanuts characters and other Great Pumpkin-themed elements. Examples include: Snoopy as the World War 1 Flying Ace ready for take-off on his dog house, Linus and Sally waiting for the Great Pumpkin to rise out of the pumpkin patch, and the Peanuts characters dressed in their Halloween costumes, featuring Charlie Brown in a sheet with holes in it as he exclaims "I got a rock!"
The mazes range in size from four to 40 acres with the average covering between eight and 12 acres. In addition to the mazes, the farms will feature a showing of the TV special and will incorporate Great Pumpkin artwork into other areas of their venues, providing the perfect setting for visitor photo ops with the Peanuts characters.
Make Tracks to the "Rail" Great Pumpkin
Peanuts and Rail Events Inc. offer four custom Great Pumpkin-themed train rides in some of the most beautiful locations in the country. "The Great Pumpkin Patch Express" features a train ride to a "Sincere Pumpkin Patch," where passengers enjoy live music, storytelling, tractor rides, pumpkin-decorating, trick-or-treating, and other festive family-oriented activities, including visits with live Peanuts costumed characters. Children are welcome to come in costume!
The Great Pumpkin Patch Express can be experienced on these historic railways:

Durango and Silverton Narrow-Gauge Railway, Durango, CO
Great Smoky Mountains Railroad, Bryson City, NC
Mt. Rainier Railroad & Logging Museum, Elbe, WA
Orange Empire Railway Museum, Perris, CA
The rides run during most or all weekends in October; visit each website for the location's train schedule and ticket information.
Let the Great Pumpkin Light Up Your Life
For truly "great" illuminated pumpkins, weighing upwards of 100 pounds each and intricately carved by hand by master pumpkin artists, there is nothing like RISE of the Jack O'Lanterns, returning to New York and Los Angeles and debuting in New Jersey and Boston this year—and featuring a series of pumpkins displaying scenes from It's the Great Pumpkin, Charlie Brown!
RISE of the Jack O'Lanterns will take place in the following locations; check the RISE website for schedule and ticket information.

Los Angeles Convention Center (with appearance by the Snoopy costume character)
Fairplex, Pomona, CA
Seaport, Boston, MA
Old Westbury Gardens, Old Westbury, NY
Meadowlands Exposition Center, Secaucus, NJ
Host a 50th Anniversary Viewing Party
This year, It's the Great Pumpkin, Charlie Brown! will air on ABC on October 19 at 8:00pm EST/PST and on October 28 at 8:00pm EST/PST. An event this special calls for a special viewing—perhaps with invited guests arriving in costume, and bringing appropriately themed foods such as Great Pumpkin Pie and I-Got-a-Rock Candy.
Decorations, books and collectibles can include the following Great Pumpkin-themed items:
Walgreen's
(All products under $25)

Four Funko Pop Vinyls featuring Peanuts characters in their "costumes" from the special. They include Snoopy as the Flying Ace, Lucy as a witch, Charlie Brown as a masked boy and Charlie Brown with the holes in his ghost get-up.
Over-sized mugs decorated with the characters in their costumes, also from Funko
A snow globe with Snoopy lounging on top of his dog house
Charlie Brown and Snoopy nutcrackers, to make snack time even more fun
Hallmark

Charlie Brown and Snoopy ornament with music: $24.95
It's the Great Pumpkin pop-up book with light: $19.95
A variety of Snoopy plush as both the Flying Ace and himself: $12.95 - $32.95
Linus and Snoopy in the Pumpkin Patch Salt and Pepper Shakers: $12.95
Peanuts Halloween cards: $2.99 - $3.99
At Major Bookstores and Retailers Nationwide

It's the Great Pumpkin Mini-Coloring Kit from Running Press: $8.42
A velvet-soft Great Pumpkin-themed blanket from Berkshire: $25.00
"We hope that Peanuts fans can get to as many of the Great Pumpkin events around the country as possible," said Roz Nowicki, Executive Vice President of Peanuts Worldwide. "But perhaps the greatest 'treat' of all is to settle back on your couch with popcorn or hot chocolate, hear the Peanuts theme music announce the start of the TV special, and wait with Linus for the Great Pumpkin to rise out of the pumpkin patch. Even at 50, it never gets old."
###
About Peanuts Worldwide
The PEANUTS characters and related intellectual property are owned by Peanuts Worldwide LLC, a joint venture owned 80% by Iconix Brand Group, Inc. and 20% by members of the Charles M. Schulz family. Iconix Brand Group, Inc., owns, licenses and markets a growing portfolio of consumer brands including: CANDIE'S (R), BONGO (R),JOE BOXER (R), RAMPAGE (R), MUDD (R), MOSSIMO (R), LONDON FOG (R), OCEAN PACIFIC (R), DANSKIN (R), ROCAWEAR (R), CANNON (R), ROYAL VELVET (R), FIELDCREST (R), CHARISMA (R), STARTER (R), WAVERLY (R), ZOO YORK (R), SHARPER IMAGE (R), UMBRO (R), LEE COOPER (R), ECKO UNLTD. (R), MARC ECKO (R), ARTFUL DODGER and STRAWBERRY SHORTCAKE (R). In addition, Iconix owns interests in the MATERIAL GIRL (R), PEANUTS (R), ED HARDY (R), TRUTH OR DARE (R), MODERN AMUSEMENT (R), BUFFALO (R), NICK GRAHAM (R) and PONY (R) brands. The Company licenses its brands to a network of leading retailers and manufacturers that touch every major segment of retail distribution from the luxury market to the mass market in both the U.S. and worldwide. Through its in-house business development, merchandising, advertising and public relations departments, Iconix manages its brands to drive greater consumer awareness and equity.