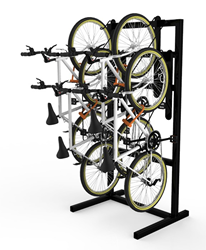 With years of experience in the field, we have been able to design a product that will not only free up space, but provide a high security bicycle-friendly option for commuters.
Boca Raton Fl (PRWEB) October 19, 2016
By Andy Kowalczyk
The Park and Facilities Catalog announced today that it will be offering high density vertical bicycle parking, by unveiling their latest space-saving rack, The DoubleUp. This highly efficient and versatile rack is a part of the Sustainable Sites Project aimed at providing high quality solutions to a growing class of bicycle commuters. The company created an animated video showing details and benefits about the design of this innovative vertical bike rack.
The need for higher-density bicycle parking that exists on university, business campuses, and bike rooms designed to meet this need are becoming commonplace. It is exactly this environment that the DoubleUp performs best. This product provides high density, secure and versatile bicycle parking, while also leaving ample room for commuters to park and retrieve bicycles, along with having the ability to work on bicycles in a favorable and spacious environment when needed.
"Bicycle commuting is fast becoming a nationwide trend for those who live in multi-family housing units near businesses or schools. Many of these locations require a high number of parking spots for their commuters." said Chris Luyet, Vice President of Sales and Marketing. "The challenge has been in finding space throughout the years. There just doesn't seem to be enough of it when it comes to bicycle parking. With years of experience in the field, we have been able to design a product that will not only free up space, but provide a high security bicycle friendly option for commuters. Our goal was to attract riders with a clean organized environment, but still address the space issue many planners have been facing."
The DoubleUp continues in the company's design trend aimed at indexing and offsetting bicycles to create a well-defined spatial footprint, while preventing handlebar to handlebar conflict. In addition, the vertical orientation of the DoubleUp ensures higher density parking in bike rooms that could prove to be a challenge for other rack styles.
Options for wall mounted and freestanding units come with or without a "locking bar" that gives planners the possibility of providing parking for tenants within their residence and where locking is necessary.
"The number of people cycling worldwide is steadily growing every year. Cities and planners know this and have been taking the necessary steps to offer an infrastructure to support it. But, it's not just about creating a bike rack to get people to ride, we need to offer our commuters an environment that promotes and encourages ridership through a level of intuitive sophistication that makes it easier for them to bicycle rather than drive!" said Luyet
What makes DoubleUp such a versatile addition to the current landscape of commercial bicycle racks, and vertical bicycle parking racks, is that it offers freestanding options that alleviate the concerns of wall mounted installations. The freestanding units come in a single or double sided configuration. They are modular in design and can build out in lengths of 10 feet. The single sided unit secures 10 bikes in 10 feet of space where the double sided unit secures 20 bikes, an industry leader in organized space efficiency.
For more information, go to DoubleUp Bike Rack.
About The Park and Facilities Catalog: The Park and Facilities Catalog is headquartered in Boca Raton, Fla. The company is a national manufacturer and provider of commercial bike racks. Our selection includes custom bike racks, wave bike racks, U-shaped bike racks, grid bike racks, architectural bicycle parking racks, double-decker bike racks, wall mounted bike racks, low-profile bike racks, bike lockers and bike storage. Our products are available in a large array of colors and protective coatings. Also with our ParkExpress program, we have bicycle racks in stock that can ship in just 3 days.
Since 2001, we have supplied top quality bike racks to parks, schools, universities, restaurants, stores, malls, shopping centers, multi-family communities across the United States. The company is also a distributor of additional site furnishings such as park benches, picnic tables, trash receptacles, aluminum bleachers and hundreds of other items.
Call 1-800-695-3503 for a free catalog of commercial bike racks or visit our website: https://www.theparkcatalog.com/bike-racks
About Sustainable Sites: With over 15 years experience in design, manufacturing, and distribution, Sustainable Sites staff members are experts in sustainable site furnishings. The company's focus is on experiential design offerings built with sustainable materials and processes. It is committed to creating meaningful high-quality, durable products that provide value for planners, installers, sustainability managers and end users. Visit the site at http://www.sustainablesites.com
Media Contact:
Chris Luyet
Vice President of Sales and Marketing
The Park and Facilities Catalog
Chris.luyet@theparkcatalog.com
The Park and Facilities Catalog
Sustainable Sites