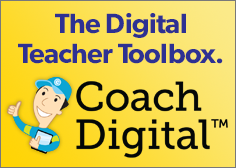 New York City, NY (PRWEB) October 13, 2016
Triumph Learning, producer of critically acclaimed K-12 supplemental instructional materials and interactive digital tools, today announced the release of their new and improved online digital resource Coach Digital.
Coach Digital is evolving into an interactive teacher toolbox that provides a growing variety of instruction, assessment, remediation, learning activities, and assessment activities, all aligned to national and state-specific standards.
Coach Digital continues to provide unlimited teacher and student access to Coach's proven, award-winning instructional content, searchable by book, topic or standards. Content includes lessons, activities, and assessments for remediation and reinforcement of all aligned standards. Lessons and activities can be easily displayed for whole class instruction, assigned for individual students to work online, or printed out for small groups and homework.
Videos
Coach Digital now offers videos, songs, and animations to keep students motivated and engaged. Students can watch multimedia in many ways, to reinforce what they are learning in class, or just for fun (and some stealth learning).
Favorites
Finding lessons and assessments in Coach Digital has always been simple and intuitive. Teachers choose their subject area and grade level, then search by standard, topic, or keyword. Now when they pull up what they've searched for they can easily mark it as a Favorite, and return to it in one click the next time they go into Coach Digital.
Create a Test
Teachers can build their own tests in Coach Digital. All they need to do is navigate to the "Create a Test" section, choose a grade level and subject area, then search by standard. A choice of questions and item types will appear and the teacher can put together differentiated assessments for groups of students, or she can create an assessment for the whole class or even individual students.
Placement Tests
New on Coach Digital are "placement tests" in mathematics and English/Language Arts for most standards at each of the grade levels, providing teachers with a quick and accurate way to discover the strengths and weaknesses of all students. From there, recommendations for assignments are provided for direct instruction. Teachers can use these assignments with small groups, individuals or the whole class and then provide additional practice using the lessons in Coach Digital.
A Variety of Item Types
Tech-enhanced items are now being offered on Coach Digital, to help students prepare for the high-stakes tests that states require. In addition to the longstanding multiple choice, short answer, and essay questions that have been a staple of Coach Digital, teachers can now find multiple-part and multi-select, and soon drag and drop items, fill in the blank, highlighting, and drop down menus. Teachers can either create their own tests using these new item types, or they can find them in ready-made interactive assessments.
Implement Blended Learning with Ease
Coach Digital is the perfect complement to Triumph Learning's print resources to use seamlessly for blended learning.
Coach Digital will be available for Grades 1-8 and High School nationally and in state-specific editions for the following states: NY, FL, GA, PA, TX, and for OK (grades 1-8). Not all states will have the same features as the national version.
View the Coach Digital introduction on YouTube.
And here's a special video for our Texas customers.
About Triumph Learning
Triumph Learning is a leading educational content company and publisher of print and digital K–12 resources and standards-aligned instructional materials, serving more than 6 million students in 36,000 schools in 2013 and 2014. For over two decades, Triumph Learning has offered research-based supplemental curriculum, robust teacher support, and professional development opportunities to accelerate learning. The company is committed to serving all students with a mix of interactive digital tools and innovative student texts with products such as Coach, Buckle Down, and Coach Digital. For more information, visit http://www.triumphlearning.com.