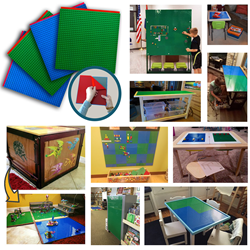 "We realized more and more that what we struggled with wasn't as much money as it was time...our goal is to help families to share more of their life together"
(PRWEB) October 18, 2016
Creative QT is literally helping parents and educators build foundations for play and education with their Peel-and-Stick LEGO®-compatible baseplates. These 10"x10" plates allow people to apply a brick building surface to almost any hard surface in minutes. Tables, walls, toy boxes - imagination is the only limit, and application is simple and easy: peel off the backing, stick the plate in place, and you're done.
Husband-wife duo, Adam and Dana Sue Hinkle founded Creative QT as a startup dedicated to building products that help busy parents organize their kids' toys and games and spend more quality time (QT) as a family.
"We realized more and more that what we struggled with wasn't as much money as it was time," said Adam, father of five. "And we aren't alone, most of our friends were struggling with the same issues."
Building off his love for tinkering, Adam began testing product ideas, combining DIY, toy organization and the principles of play based learning. Dana Sue helped with product design and field testing - letting their 5 kids go at it and give the product the most rigorous durability tests.
Their flagship product, Peel-and-Stick baseplates, allow people to quickly create a LEGO®-compatible play area on almost any hard surface like a wall or table. People can make epic building surfaces in minutes.
Parents aren't the only people benefiting from their products, educators are loving Creative QT's products, too. Since the company's launch, many teachers and librarians use Creative QT's Plates to develop their junior makerspaces and to aid STEM learning activities. Dana Sue and Adam also supplement many of their products with play based learning lessons including subjects like graphing, math, and language arts.
Along with the Peel and Stick baseplates, Creative QT offers the baseplates without the adhesive, a LEGO®-Compatible Table Kit (a glue down version of the product), several styles of drawstring play mats with city and country scenes, as well as, the Stuffed Animal Storage Bean Bag. All products are specifically designed to save time, improve time spent in play, and to foster adult/child engagement
When asking the Hinkles what is next for their business, Adam said, "We are working on more fun organizational ideas, as well as, some playful ways kids can begin to get more involved in the household chores. All in all, our goal is to help families to share more of their life together."