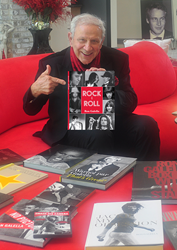 "All photographers seem to love to shoot rock stars. 'Rock & Roll' is about artists expressing themselves with maximum freedom and that's an idea I've always supported and sought to achieve with my own work" Ron Galella
Montville, NJ (PRWEB) October 11, 2016
Ron Galella, widely regarded as the most controversial celebrity photographer in the world, is pleased to announce the release of his newest work, "Rock and Roll" on October 11th.
This 80 plus page softcover black and white and color photo book, containing over 130 photographs will retail for $45.00, plus shipping and handling. Pick up a copy to include in your own personal library, or buy several at http://www.rongalella.com/store/books/rock-n-roll/. They will make fantastic holiday gifts! Rock and Roll aficionados, fans/collectors of Ron's work will have a blast as they experience each page of this latest work by the paparazzo extraordinaire!
"Rock and Roll" was inspired by the recent losses in 2016 of David Bowie and Prince, two of the world's most beloved and legendary musicians - and two of Ron's most favorite subjects to photograph. Their deaths compelled the paparazzo superstar to create "Rock and Roll", an encore follow-up to Ron's exhaustive 3-volume photo pictorial encyclopedia of music, "Pop, Rock and Dance" published in 2013.
"All photographers seem to love to shoot rock stars. 'Rock and Roll' is about artists expressing themselves with maximum freedom, bringing on rebellion through power and strength - and that's an idea I've always supported and sought to achieve with my own art," declares Galella.
Here, however, Galella showcases for the reader a curated selection of some of his favorite rock acts and many never-before-published photos, making for a fast-paced compilation, featuring the best of the best in rock music spanning the 1960s through today. Legends like: Jimi Hendrix, Elton John, Stevie Nicks, Elvis Presley, Cher, The Rolling Stones, John Lennon, Bruce Springsteen and many more!
Readers who wish to experience this dynamic photo collection can purchase "Rock and Roll" at the author's website, http://www.rongalella.com or on Amazon Books.
About Ron Galella
A native New Yorker, now residing in New Jersey, Galella served as a USAF photographer before attending the Art Center College of Design in Los Angeles, where he earned a degree in Photojournalism. Dubbed "Paparazzo Extraordinaire" by Newsweek and "the Godfather of U.S. paparazzi culture" by Time and Vanity Fair, he is regarded by Harper's Bazaar as "the most controversial paparazzo of all time". During his career Ron has taken over 3 million photographs depicting celebrated public figures. His work has been acquired internationally by collectors and museums, and is now exhibited in galleries worldwide. Now 85, he is retired from shooting but is still a workaholic producing a book a year.
Credit: https://en.wikipedia.org/wiki/Ron_Galella
Fans of Ron can meet him in person at a book sale and signing on October 13th at 6 pm at the Anthology Film Archives, 32 Second Ave., New York, NY. A screening of the documentary film "Smash his Camera" about Ron's life and career follows at 7 pm, with a Q and A afterwards. Visit: https://www.icp.org/events/an-evening-with-ron-galella-at-anthology-film-archives for more.
For additional information or Media inquiries, please contact Kathy Lener at Ron Galella Ltd. Tel: 860-919- 8323.